Poland rebounds for win over Falcons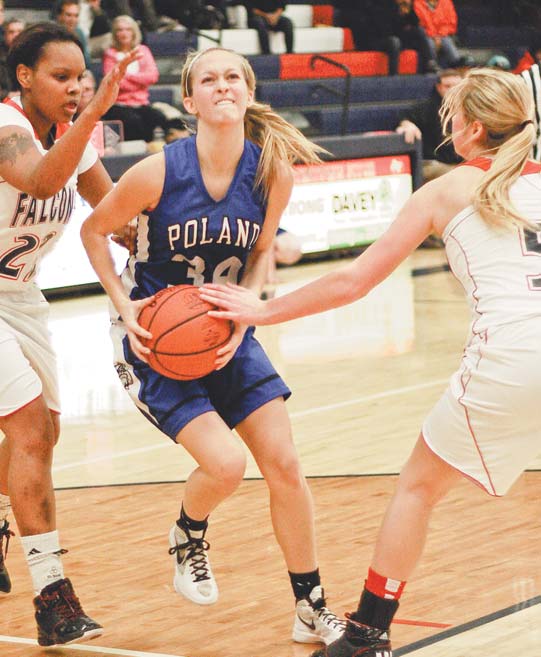 Photo
Abby Frank (34) of Poland drives the ball through Fitch defenders Aniss Hill (22) and Sarah Melfe (5) during the second period of their All-American Conference basketball game Thursday at Austintown Fitch High School. The Bulldogs downed the Falcons, 40-34.
By Greg GULAS
sports@vindy.com
AUSTINTOWN
The Poland High girls basketball team scored just 14 points their last time out, a disappointing 50-point loss at home to Howland.
Against Fitch on Thursday, Maura Bobby scored a team-high 13 points and the Bulldogs withstood a late Falcons' rally for a 40-34 All-American Conference victory.
Entering the game, Fitch had scored less than 50 points just twice this season en route to a 5-1 start and perfect home ledger.
Poland held the Falcons to just a single point after the first eight minutes of action and nine total points at intermission. Bulldogs coach Nick Blanch had a strong feeling that this might be the night that his team could steal a conference road game.
"Our game plan was to take them out of their offensive rhythm as much as possible," Blanch said. "For the most part tonight, we succeeded in that area.
"The Falcons have two excellent offensive weapons in Megan Sefcik and Anissa Hill," Blanch said. "For us, Kelsey Malenic had an excellent game defensively against Sefcik, but she is so active and always moving without the ball that by the fourth quarter fatigue set in for us.
Four points by Bobby in the opening period, coupled with a stingy Bulldogs defense helped Poland (6-2) to a 13-1 advantage after the first frame.
Despite the fact that the Falcons outscored the Bulldogs 8-5 in the second period, Poland held on for an 18-9 lead after the first two quarters of play.
"Coach told us to be up on everyone defensively and deny both [Megan] Sefcik and [Anissa] Hill the ball," Malenic said. "It's what we do all the time in practice so we were well-prepared in that area tonight."
Four points each by Bobby and Malenic after the intermission offset conventional three-point plays by both Sefcik and Brianna Edwards as the Bulldogs scored 10 of the final 12 points of the quarter to forge a 34-21 lead with eight minutes remaining.
"We've lost twice this season and both times learned a lot from those setbacks," Bobby said. "Tonight, we needed to focus on our defense and that is how we were able to keep their top two scorers in check.
"Taking away second chance opportunities was also big as well," Bobby said.
A triple by Sefick and two buckets by Maura Bianco to start the final period pulled the Falcons (5-2, 1-2) to within 35-28 with 4:11 remaining.
"We slowed it down offensively in the fourth period for that very reason, milking the clock as much as we could because the clock was now our ally," Blanch said.
Triples by both Sefcik and Hill keyed a 6-2 Fitch run as the Falcons pulled to within 37-34 with 51 seconds remaining.
Two free throws by Rachael Robertson and another by Malenic down the stretch, however, put the game away for the Bulldogs.