Lease will protect Valley landowners from water contamination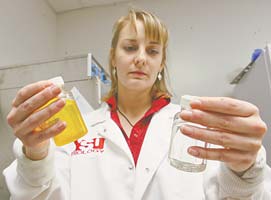 ---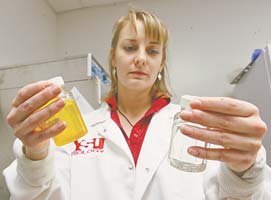 Photo
Karen Stangl checks for the presence of E. coli and coliform bacteria in water at the Mahoning County Health Department. The department can test water for contamination related to oil- and natural-gas drilling.
By Karl Henkel
Fourth of a 5-part series.
YOUNGSTOWN
Water quality is a top concern to all landowners, especially those with water wells near oil- and natural-gas drilling operations.
Fracking Chemicals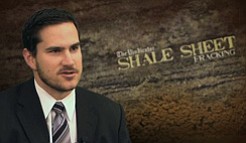 Video
Attorney Chris Baronzzi of Harrington, Hoppe & Mitchell discusses fracking chemicals as it relates to water testing and industry disclosure practices.
But the Associated Landowners of the Ohio Valley and its attorneys have developed a lease that will help protect the water of thousands of residents throughout the Mahoning Valley.
The lease requires drillers to test water — and replace water if any contamination happens after drilling begins.
ALOV is a nonprofit coalition of landowners that has leased more than 100,000 acres of Ohio land with oil and gas drillers.
The lease calls for drilling companies to test a landowner's water before and after drilling. The driller pays for all testing costs and must share the results with the landowner.
The ALOV lease stipulates that a drilling company must clean up, remove, remedy and repair any water (or ground) contamination, regardless of whether it was caused by the driller.
But how can a drilling company "replace" water?
For Western Reserve Local Schools, the company will ship in bottled water and set up fresh-water storage if any school water source becomes contaminated.
It negotiated exclusively with Oklahoma City-based Chesapeake Energy Corp. and is part of a growing number of landowners demanding water-quality testing in lease agreements.
But for landowners who have already signed oil and gas leases without a water-quality stipulation, not all is lost.
Christopher Baronzzi, an attorney with the Youngstown law firm Harrington, Hoppe & Mitchell, said all landowners — including those with water-protection clauses in leases — should conduct baseline-water tests before any drilling activity.
"It's probably preferable to wait until you get a notice or some kind of information from the company or from the Ohio Department of Natural Resources that alerts you that there's going to be a well or some sort of drilling activity on your property," Baronzzi said.
It is at that point Baronzzi advises a landowner to test for both water quality and flow rate using water-testing companies or organizations.
Tests at the Mahoning County District Board of Health start at $107 and checks for presence of chloride, sodium, sulfate and total dissolved solids — some of the chemicals used in fracking.
Fracking is a process in which water, chemicals and sand are blasted into rocks thousands of feet below the ground to unlock natural gas and oil.
There are two other testing levels:
Tier 2, at a cost of $208, tests for substances in Tier 1 plus substances' alkalinity, bromide, calcium and total suspended solids.
Tier 3, at a cost of $396, tests for substances in Tiers 1 and 2 plus substances such as benzene, ethyl benzene and methane.
Janine Soubra, laboratory technician, said any of the three will be sufficient, but the district recommends Tier 3.
"That's what's recommended by the state," she added.
It is also recommended that a sanitarian and neutral third party test water, not a landowner.
"If they want it to hold up in the court of law, it's better they not take the samples themselves," Soubra said.
More like this from vindy.com