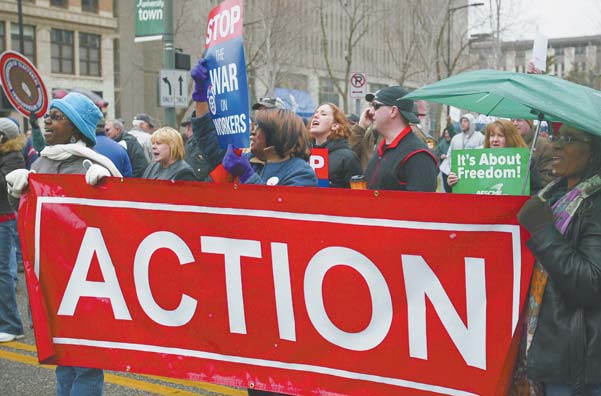 ---
NEWS STORIES
of the YEAR
A LOOK BACK AT THE TOP LOCAL STORIES IN THE NEWS
1: Senate Bill 5
2: YSU strike
3: Violence in the city
4: Oak Hill dismissed
5: Six die in fire
6: Violence near YSU
7: City schools improve
8: Quakes shake
9: Racing toward racing
10: Fiscal spotlight
YOUNGSTOWN
The uproar over a ballot issue to stop some collective- bargaining rights for public employees, tense negotiations between Youngstown State University and its faculty union, the dismissal of corruption charges against Mahoning County elected officials, earthquakes and violence made headlines in 2011 and are among the area's Top 10 news stories of the year as selected by The Vindicator staff.
1.) SENATE BILL 5: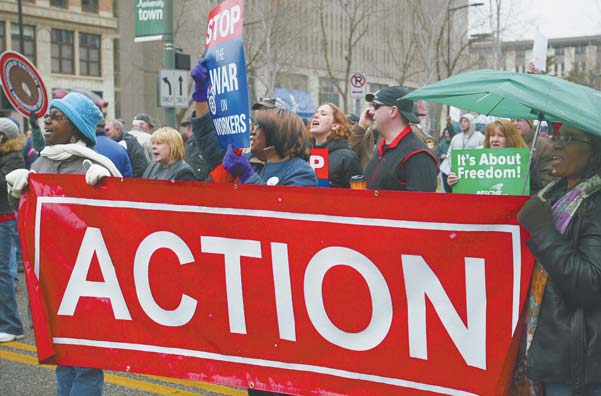 Photo
Union members and supporters protested in downtown Youngstown against SB 5.
Rejected
Voters soundly rejected state Issue 2 on the November ballot with Democratic-dominated Mahoning County providing the largest margin of defeat among the state's most-populous counties.
The issue was a referendum on Senate Bill 5, a state law passed earlier in the year to restrict some collective-bargaining rights from public workers.
Issue 2 opponents accused Gov. John Kasich — who led a rally in Columbiana County just before Election Day — and the Republican-led state Legislature of going too far with SB 5.
"John Kasich and the right-wing wackos who've taken control of this state don't represent the values of the people in Ohio and particularly the Mahoning Valley," said David Betras, chairman of the Mahoning County Democratic Party. "Voters rejected an attempt to hurt the middle class and working people of this state."
2.) YSU STRIKE:
After sometimes-contentious negotiations and an announcement of a strike in late August that was called off a few hours later, Youngstown State University and its faculty union approved a concessionary three-year contract in October. The university approved a three-year deal at the same time with its classified-employees union which also involved cuts for employees.
Both contracts called for members to pay 10 percent of the health-care premium beginning in January, 12 percent starting July 1, and 15 percent beginning July 1, 2013. Previously, union members paid 1.5 percent of their base salary for family health insurance and 0.75 percent for individual coverage. Both contracts had no base-pay raises during the first two years of the deal with a 2 percent increase in the third year.
3.) VIOLENCE IN THE CITY:
After seeing its murder rate decline three-straight years, Youngstown had 23 murders in 2011. That's three more murders in the city compared with 2010.
When Jimmy Hughes retired as police chief on Sept. 1, there were 11 murders. There were 12 more with Rod Foley as chief during the last four months of the year even with the assistance of various state and federal law-enforcement agencies.
The city is searching for new ways to curb violence and looking at programs that worked in other cities.
"We don't have to reinvent the wheel," said Youngstown Mayor Charles Sammarone. "If it is being done in other cities and it is successful, then we can use it in the city of Youngstown."
Arresting chronic offenders is important, but there must be a community approach to help lower-level offenders before they commit more serious crimes, Foley said.
4.) OAKHILL DISMISSED:
A judge dismissed a 73-count indictment against five people — including Mahoning County Commissioner John McNally IV and county Auditor Michael Sciortino — and three companies in the Oakhill Renaissance Place criminal case.
Prosecutors said their inability to obtain tape recordings held by the FBI and provide them to defense lawyers made it impossible to proceed with the case. Those charged in the case — McNally, Sciortino, ex-county Treasurer John Reardon, former county Job and Family Services Director John Zachariah, and Anthony M. Cafaro Sr., former president of the Cafaro Co. — maintained their innocence throughout the case.
Two other defendants were charged only with money laundering and not conspiracy. They are Flora Cafaro, a Cafaro Co. executive, and Martin Yavorcik, an attorney and failed 2008 county prosecutor candidate. The two also said they were innocent.
5.) SIX DIE IN FIRE:
A fire on Landsdowne Avenue Northeast in Warren kills six, making it the deadliest fire in the city's history. Among the six victims in the June 16 fire were four children.
The six who died were: Audrea Johnson, 31; Derek Dorsey Sr., 30; their two children, Derek Dorsey Jr., 11, and Ariell Dorsey, 9; Derek Sr.'s niece, Miracle Hugley, 9; and Audrea's niece, Ja'Niece Hicks, 13, of Columbus.
The fire was caused by a charcoal grill near the house that most likely was last used during a family cookout the previous day.
6.) VIOLENCE NEAR YSU:
Among Youngstown's 23 murder victims in 2011 was Jamail Johnson, a YSU student shot at an off-campus party. Johnson was trying to maintain order and usher others away from gunfire at a house party on Indiana Avenue. Two guests were wounded.
7.) CITY SCHOOLS IMPROVE:
After more than four years in fiscal emergency, the state auditor' office lifted that label from the Youngstown school district in March. During that time, the district cut spending by $32 million and eliminated 520 jobs. The district also climbed out of academic emergency, the lowest state rating, and went into academic watch on the state report card in August due largely to improved attendance.
"This is something we need to celebrate," said Superintendent Connie Hathorn in August, seven months after he took over the school district.
The district reorganized its schools this year with the Chaney Science, Technology, Engineering and Math, and visual and performing arts school, the eighth- and ninth-grade academy, and the alternative school as the centerpieces.
8.) QUAKES SHAKE:
The Mahoning Valley experienced nine minor earthquakes this year — the only quakes ever recorded with epicenters in the area.
All nine had epicenters near a brine-water injection well near Salt Springs Road and state Route 711 on Youngstown's West Side. The Ohio Department of Natural Resources says it does not believe there is any correlation between the two, but is taking steps to ensure the well is not the cause.
9.) RACING TOWARD RACING:
Penn National Gaming Inc. is proposing the relocation of its Raceway Park in Toledo to the 186-acre Centerpointe business park in Austintown, where the company would build a $200 million facility as long as the state legalizes video slot machines at racetracks.
The state Legislature and Gov. John Kasich support slot machines at tracks and Penn's proposed relocation. The American Policy Roundtable filed a lawsuit contending the governor and the state exceeded their constitutional authority.
Also, the Mahoning Valley Development Group is proposing a $300 million horse racetrack and entertainment complex with slots in North Jackson. Only one of the two can receive the horse-gaming license.
10.) FISCAL SPOTLIGHT:
Government spending came under increased scrutiny in 2011 with Senate Bill 5, less tax revenue because of a weak economy and the state cutting the Local Government Fund, which provides money to communities, counties and libraries.
Locally, The Vindicator highlighted public spending through its GovernmentWatch on Vindy.com. While many employee unions signed contracts with pay freezes and made concessions, other government entities sought to pay more money to workers.