Riding high in saddle Poland teenager competes as finalist in national quarter-horse competition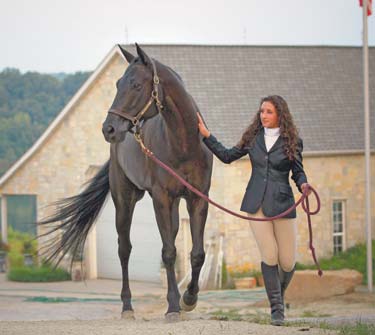 ---
POLAND
Jenna Jacobs took her first steps at age 1 toward a pony, and now at 15 she's completing the final steps to be a national championship quarter-horse rider.
Jenna, a freshman at Cardinal Mooney High School, left Monday for Tampa, Fla., for the Florida Gold & Gulf Coast Circuits, one of the biggest quarter-horse shows in the country.
She is ranked fourth in the American Quarter Horse Association's Youth World Show, and her 10-year-old Appendix quarter horse, Fine Details, is ranked first in the nation's senior Hunter Over Saddle category.
"Once you're bit, there's no turning back," Jenna said of horse showing.
Jenna, the daughter of John and Cathryn Jacobs of Poland, accumulated points at horse shows across the country throughout the year. Those points are used to determine the ranking, which appear in publications such as The American Quarter Horse Journal.
Jenna competes primarily in Hunted Under Saddle, a category that judges the horse and how it looks and moves, and Equitation, a category the judges the rider.
She said Fine Details is housed and trained in Sunbury, near Columbus, and that she and her mom make the 21/2-hour drive at least once a week for practice.
Jenna trains with Heidi Piper, of Piper Performance Horses, where Fine Details stays.
"I've learned a lot of self-confidence from riding. It can be nerve-wracking walking into a show and then you have to smile and be ready," she said.
Cathryn said she had to learn just as much as her daughter when it came to horses and praised local 4-H programs as a great starting point.
"[Jenna's] love started on her first birthday when she had a pony ride. I think it's developed into a life-long passion," Cathryn said.
She added that Jenna began riding lessons with John Zedaker, of Zedaker's Anjon Acres, just before her eighth birthday and has never forgotten her roots while competing nationally.
"She's locally grown," Cathryn said.
Although Jenna doesn't plan to have a career relating to horses, she does want to continue riding. She had a piece of advice for those interested in pursuing something new.
"Make sure you're committed and dedicated, and you can do something spectacular," she said.