Mail center hopes public can deliver it from closure
By Karl Henkel
YOUNGSTOWN
Area Mail Processing Public Meeting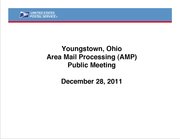 Document
Presentation for the Youngstown, Ohio Area Mail Processing (AMP) Public Meeting on December 28, 2011.
AMP Feasibility Study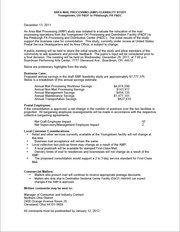 Document
AREA MAIL PROCESSING (AMP) FEASIBILITY STUDY Youngstown, OH P&DF to Pittsburgh, PA P&DC
It all comes down to this.
The Youngstown mail-processing and distribution center, previously slated for closure by the U.S. Postal Service before congressional intervention, will get a public meeting to attempt to dissuade the postal service from vacating the city.
"It's a golden opportunity for the public to have the greatest amount of influence they've ever had," said Dominic Corso, president of American Postal Workers' Union Local 443. "We're hoping the more noise we make, then they won't close Youngstown."
The meeting takes place from 7 to 9 p.m. Wednesday at Boardman High School's Performing Arts Center, 7777 Glenwood Ave.
The postal service previously had selected the Youngstown facility, along with 251 others nationwide, to close as part of a restructuring effort in an Area Mail Processing, or AMP, study.
The Youngstown processing and distribution center, home to about 500 employees, could have closed as early as March, Corso said, but pressure from Congress prompted a moratorium on post-office terminations.
A postal-service spokesman said the service has made no final decision on the facility, but based on documents Corso received, he thinks the decision already has been made.
"I'm hopeful that's not the case, but based on my experience with the postal service, yes [it might]," he said. "The moratorium did not change the timetable to close Youngstown."
The postal service says it could save $7.8 million by closing the Youngstown facility and combining operations with a similar facility in Pittsburgh, according to documents.
About 100 employees between the two sites stand to lose their jobs.
A letter from USPS to Youngstown union representatives obtained by The Vindicator indicates that 87 of those affected workers would be from Youngstown.
"If the post office was really bargaining in good faith, and showed that they're taking this serious, they would have put a freeze on the AMP study," Corso said. "We wouldn't even be having a public meeting."
Postal-worker unions say that if the processing and distribution center is closed, time-sensitive mail such as medications will be delayed, and that problem will be compounded in rural areas.
The postal service already has said that first-class mail will soon take two to three days to deliver, not the standard one-day delivery.
The postal service has struggled with declining mail delivery, though it still delivers more than 167 billion pieces of mail annually.
That is a 20 percent decline from 2006, when USPS delivered a record 213 billion pieces.
The chief reason for the deficits, some have argued, is the government-mandated retiree health-care benefit prefunding program.
Every year the postal service starts with a deficit of $5.5 billion, as stipulated in the 2006 Postal Accountability Enhancement Act, which requires USPS to fund retiree health-care benefits 75 years in advance.
That is in addition to $7 billion in expenditures for current benefits.