Landowners urged to beware of selling mineral rights
By Karl Henkel
Second of a five-part series
YOUNGSTOWN
Leasing vs. Selling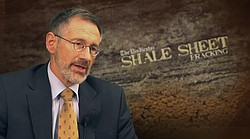 Video
Attorney Alan Wenger of Harrington, Hoppe, & Mitchell explains the differences between leasing and selling mineral rights.
Oil and gas leases are at the forefront of shale drilling in the Mahoning Valley.
Landowners, however, must beware of landmen looking to buy — and not lease — their mineral rights.
Landmen negotiate deals and trades with other companies and individuals, draft contracts and administer their compliance, acquire leases and ensure compliance with governmental regulations.
Instead of lease agreements, which could net landowners thousands of dollars an acre plus royalties, a mineral-rights purchase forfeits land rights and any royalties, said Alan Wenger, an attorney at the Youngs-town law firm of Harrington, Hoppe & Mitchell.
"The owner of those rights then has rights to production from the minerals and to receive payment for the sale of those minerals," Wenger said. "Upon a sale, the seller no longer has any rights to royalties, rents or anything of the sort."
Potential royalties are as high as 17.5 percent in the Mahoning Valley.
Wenger said the difference between signing leases, which under Oklahoma City-based Chesapeake Energy Corp., a major driller in Ohio, are often five-year deals with potential three-year extensions, and a mineral-rights purchase could amount to thousands in lost royalties.
The mineral-rights purchases are generally one-time payments of $2,500 an acre, similar to the amount offered as bonus payments in oil and gas leases.
"The amount being paid sounds very attractive," Wenger said. "But what people tend to not realize is that's all they're going to get. It's not a lease — it's a sale."
In other words, the mineral-rights purchaser — and not the landowner — will be the recipients of any royalties.
Wenger said oftentimes it won't be a large oil company that tries to purchase mineral rights; a smaller company, such as Oklahoma City-based MC Mineral Co. LLC, which is actually a subsidiary of Chesapeake, is the purchaser.
MC Mineral, in a letter to a Mahoning County resident that was acquired by The Vindicator, clearly states it "is interested in purchasing, not leasing" oil and gas minerals.
Scott Rotruck, vice president of corporate development for Chesapeake, defended the mineral-rights buying practice.
"Some risk-tolerant mineral owners prefer to lease their minerals, potentially receiving a bonus payment and then royalty payments over time, while others who are more risk-averse prefer to sell their mineral rights outright and receive their compensation up front," he said.
By acquiring mineral rights, the oil company becomes the beneficiary of any royalties negotiated under a previously signed lease, which equates to about 12.5 percent.
One problem though, said Bob Rea, president of Associated Landowners of the Ohio Valley, is that landowners will lose control of their property.
ALOV is a nonprofit coalition of landowners that has leased more than 100,000 acres of Ohio land to oil and gas drillers.
"They can put a drill wherever they want and they have no recourse," Rea said of the drilling companies. "If you sell mineral rights, they have full access to your property."
Mineral-rights sales are just like any other sale. Once the agreement is executed, the sale is complete.
But if it's been more than 20 years and a landowner gives a 30-day public notice, an affidavit can be filed to take back mineral rights. If the gas or oil company responds within 30 days, the next step is likely a lawsuit.