Political Yardsigns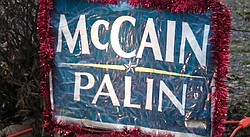 Video
In a friendly neighborhood rivalry some Struthers residents are making political statements.
STRUTHERS
Though the 2012 presiden- tial campaign is under way, neighbors on a quiet cul-de-sac in Struthers aren't letting go of the 2008 race.
Tom Vasvari, a former 24-year city councilman and council president, put a yard sign in support of Democrats Barack Obama for president and Joe Biden for vice president on the front lawn of his Eve Drive home during the fall of 2008.
Around the same time, his neighbors across the street — Darryl Heavrin and his wife, Susan Kondos — put a sign on their front lawn for the unsuccessful Republican ticket of John McCain and Sarah Palin.
While the McCain-Palin sign spends time outdoors and indoors — "it kept walking away," Kondos said — the weather-worn, tape-covered items face each other.
So why are the 2008 campaign signs still on display?
"I don't usually do that, but it's a reminder to people that you elected the president to make a difference, for change, and he needs our support," said Vasvari, who's lived in his house with his wife, Rosemarie, since it was built in 1950. "I feel really strong about him. He's trying his best and doing a good job, but people are against him."
Vasvari, a retired foreman at Youngstown Sheet and Tube, said he's not "feuding" with his neighbors, adding, "I don't know who those people are."
It took this Vindicator article for the neighbors, who've lived across the street from each other since Heavrin and Kondos moved here in June 2007, to have their first conversation.
The talk had a few uneasy moments and some political trash-talking but ended with a hug and handshake.
Heavrin said he and his wife kept their sign because Vasvari kept his on display.
"It's all in the spirit of fun," Kondos said. "It's never anything mean. We respect [Obama]. We disagree with him, but he is our president."
Also, Heavrin said the sign remains because "I don't see anyone in the Republican stable I'm enthusiastic about for president."
Kondos said she was disappointed Palin didn't run because she wants a woman for president. If she had to choose a GOP presidential candidate, she said it would be Newt Gingrich.
But once Republicans select a candidate, the McCain-Palin sign will be "retired" and replaced by a sign in support of the party's 2012 presidential nominee, Heavrin said.
Vasvari received a new sign a couple of weeks ago that he put next to the old one. He has no intention to get rid of his 2008 sign.
Vasvari's sign has been through a lot, particularly bad weather, but is still in one piece, sort of.
The sign's blue color is faded, the bottom is torn and frayed, it's covered in tape and the back is missing.
"It blew off in a windstorm," Vasvari said.
Helping to keep it in place is a Gov. Ted Strickland-Lt. Gov. candidate Yvette McGee Brown sign that replaced the missing back.
"It shows the signs of weather, but it's still alive," Vasvari said.
The McCain-Palin sign is in better shape, primarily because it's spent time inside.
The sign is covered in clear packing tape with a portion of the bottom back side missing. Though still a dark blue, the sun has caused the color to fade, Kondos said.
Kondos, staff accountant for Mill Creek MetroParks, and Heavrin, who teaches vocational carpentry to prisoners at the Northeast Ohio Correctional Center, recently decorated the sign with red garland and went all out for Christmas by installing white and blue lights near it.
"It's a little amusing," Vasvari said about watching his neighbors take the sign out of the window and spend several hours using it as the centerpiece of their outdoor decorations.