Dogfighting suspected at vacant Youngstown home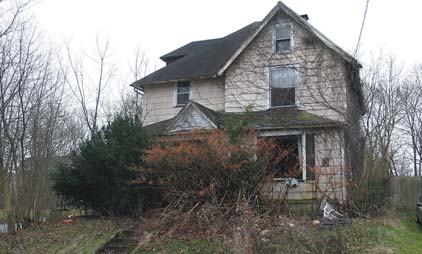 Photo
Officials found five dogs and a dogfighting setup inside this abandoned West Myrtle Avenue home on Youngstown's South Side earlier this week. Three of the dogs are in the care of the county dog warden, but two were missing when officials went to remove
YOUNGSTOWN
Police and the Mahoning County Dog Warden's office are looking for two dogs that were harbored in an abandoned South Side home and believed to have been used in organized dogfighting.
Dave Nelson, deputy dog warden, said agents with the dog warden's office planned to knock on doors and search for the two animals today. He has some leads as to where the two dogs might be, he said Thursday.
Nelson and Youngstown police were alerted to the vacant and abandoned West Myrtle Avenue home earlier this week when a resident called police about a dog on the roof of the house. Police discovered at least five dogs in various parts of the house.
Nelson said barriers inside the house were situated in a way that suggested dogfighting had been taking place inside. He said there are also witnesses to dogs being taken in and out of the house.
Officials were able to remove three dogs — a cane corso, a beagle and an American bulldog — from the house Wednesday, but were forced to leave two dogs in the house until Thursday because the floor boards in the house were too unstable. The two dogs were left with fresh water and food.
Nelson said officials returned Thursday to retrieve the dogs, but the animals, along with all the food and water dishes, were gone. He said someone likely came to the house overnight and took the animals elsewhere.
Nelson said anyone found to be involved in the dog fighting or removal of the two animals could face felony charges of dogfighting.
The three dogs taken from the house are at the county dog pound and recovering well, Nelson said.
"This dogfighting thing is illegal, but it is big business. I interviewed a young kid who told me that he could make up to $500 or $700 a week doing this. It is a problem," he said. "I will file charges on anyone involved in this and continue to make sure that anyone witnessing or involved faces the appropriate charges."
The Myrtle Avenue address has a history with dogs. The former female resident who lived in the house until about eight years ago kept about 35 dogs in the house, Nelson said. Those animals were removed and placed with other families when she died.