Harrison and Big Ben ready for Rams
---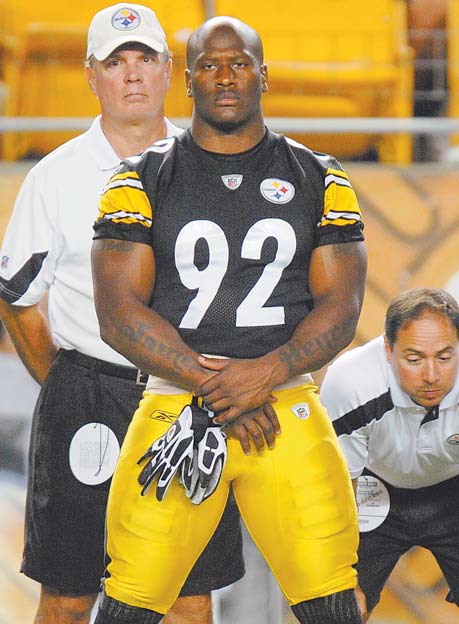 Photo
Pittsburgh Steelers linebacker James Harrison (92) understands the NFL's actions against him for his helmet-to-helmet hit on Cleveland QB Colt McCoy in the Dec. 8 game. But what he does not understand is why the league did not punish the Browns from allowing McCoy to return to the game if he was so seriously injured.
Associated Press
Pittsburgh
Pittsburgh Steelers linebacker James Harrison understands his helmet-to-helmet hit on Cleveland quarterback Colt McCoy was illegal by the letter of the law.
He can also understand, grudgingly, why the NFL suspended him one game as punishment for a series of similar hits over the last three seasons.
What Harrison doesn't quite understand, however, is why the Browns haven't also been disciplined by the league for allowing McCoy to return to the game so quickly if the quarterback was in such bad shape.
"If he was hurt so bad I don't know why they let him back in ... two plays later," Harrison said. "Something should be done to them, I would think. I don't know. I got a game, what should they get?"
McCoy was escaping pressure late in the fourth quarter when he tucked the ball as if to run. Harrison, who had been in coverage, approached ready to strike. McCoy pulled up at the last second and flipped the ball to running back Montario Hardesty right before Harrison mashed McCoy with his facemask.
Harrison contended after the game that McCoy ducked. Looking at the tape he's not so sure.
"I guess he's a little shorter, who knows? I don't know," Harrison said. "When it came down to it, my helmet hit his. Oh well."
The quarterback was down on the field for several moments but was cleared by the Browns to return a few plays later — just in time to throw a clinching end zone interception in a 14-3 Pittsburgh win.
Harrison practiced Wednesday for the first time since the suspension. The 2008 NFL defensive player of the year doesn't think he needs to change the way he plays to avoid further disciplinary action.
"I'm doing everything they ask me to do," Harrison said. "I've lowered my target area, that's it."
Harrison, who has lashed out at league officials in the past for their crackdown on what is considered dangerous hits, seemed more nonplussed about the suspension than previous fines.
"I'm not worried about anything," he said. "I can't forsee the future. I'm not a fortune-teller. I'm going to deal with it as it comes."
Meanwhile, Ben Roethlisberger spent Monday night gingerly limping up and down the field at Candlestick Park on one leg not caring, to be honest, how he'd feel the next day.
Turns out, he was pleasantly surprised.
"I didn't think I'd be able to walk," Roethlisberger said Wednesday. "It actually feels a lot better than I thought it would."
Good enough, Roethlisberger hopes, to play against St. Louis on Saturday.
Despite speculation the Steelers (10-4) might sit him for both of the team's final games to make sure he's healthy when the playoffs begin, Roethlisberger insisted he's doing everything he can to help keep Pittsburgh's hopes for an AFC North title alive.
"I've said many times I want to go and I'll try and be ... ready to go," he said.
Roethlisberger passed for 330 yards but also turned over the ball four times in a 20-3 loss to San Francisco while playing with his badly sprained left ankle in a brace he equated to a prosthetic limb.
He took the blame for the turnovers and allowed the injury forced him to modify the way he throws because he was concerned about taking a bad step.