Valley can accommodate shale boom short-term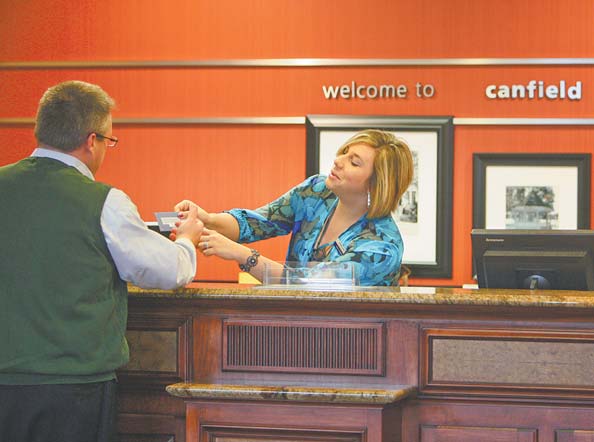 ---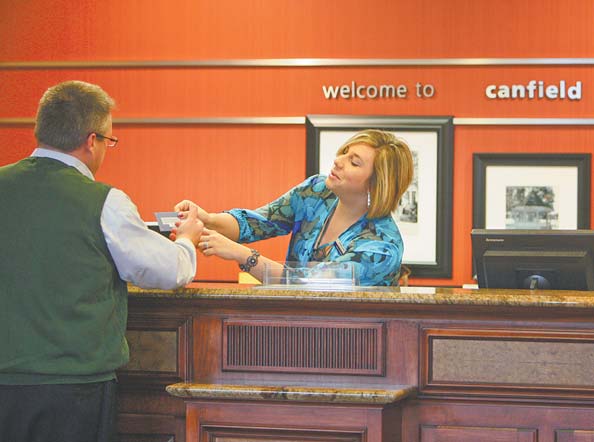 Photo
Elizabeth Caman, assistant general manager at Hampton Inn & Suites in Canfield, helps Phil Gaulin of Buffalo, N.Y. Local hotels have had higher occupancy rates this year, partially due to those coming here involved in the Utica and Marcellus shale-drilling activity.
By Karl Henkel
YOUNGSTOWN
Mahoning County will soon reap the benefits of the shale-drilling frenzy.
One industry — hotel and lodging — already has felt the indirect effects of Utica and Marcellus shale exploration.
But the long-term growth expectations appear tempered.
The hotel roster, which sports 33 locations, likely won't expand, local experts said.
Hotel managers, apartment owners and area bankers say the Mahoning Valley — unlike North Dakota, and to a lesser extent, nearby Carroll County — has the facilities in place to weather the influx of drilling companies for the next five years.
That leaves the focus on the long-term prospects of the area's housing industries.
The expected drilling boom will mean additional revenue through the county's hotel and motel bed tax, and the influx of residents could lead to increased bank lending.
That heightened demand could spurn new housing and apartment-complex growth.
Extended stays, however, could leave Mahoning County Convention and Visitors Bureau out in the cold.
HOTELS
Mahoning County's hotels have approximately 1,755 total rooms.
Occupancy rates, which totaled 51 percent during the first 11 months of 2010, have jumped to 56 percent during the same period this year, thanks in part to shale-related visitors.
REVpar, or revenue per available room, calculated by dividing a hotel's total room revenue by the room count and a specific period of time, increased from $38 to $43.
Mike Moliterno, hotel manager at Holiday Inn Boardman, 7410 South Ave., said shale activities have brought his hotel increased stays.
He expects that phenomenon to spike.
"We've had some business from this off and on in the last year," he said. "Some of our sister properties — Canton — have had a real lot of business from it."
In anticipation of the rush, the visitors bureau has taken charge.
"We have just reminded them of the potential of this," said Phil Moore, head of the bureau. "We suggested they get with ownership and come up with pricing and a promotional plan so that they can take advantage of the situation."
BENEFITS AND DRAWBACKS
Drillers looking for short-term lodging solutions may have limited options.
Apartment complexes are at all-time occupancy rates.
Craig Tareshawty owns rental housing and apartments totaling 1,300 units throughout the Valley. He, like most other complexes, is at near-full capacity and has been for months.
His properties are at 96 percent capacity.
"It might be tough," he said. "It does bring up the question: Will we [apartments] be able to house them?"
That's where the hotels step in.
Mike Naffah, hotel manager at Hampton Inn & Suites, 6690 Ironwood Boulevard, said shale visitors have come in modest droves for more than a year now, and he's preparing for even greater occupancy in the coming years.
Moliterno said there are plans in the works for long-term hotel stays, which he says are a bonus for hotels.
"They could be here for three months, six months, a year or two years," he said. "This type of business is actually easier."
But that's also a drawback for the economy.
Pre-arranged stays longer than 30 days circumvent the county's 3 percent bed tax. The visitor's bureau gets 1 percent of that, which equaled $739,486 the first 11 months of 2011.
Long-term stays can put a dent in revenue for the bureau, which promotes and markets the area.
It currently staffs two (including Moore) and operates on $200,000 annual budget.
TWO FOR ONE
The promotions and marketing burden, experts say, appears to be on the backs of current hotels and not apartments or rental houses.
But that's a good thing, said Eric Planey, vice president of international business attraction for the Youngstown/Warren Regional Chamber.
"Appearances mean a lot," Planey told The Vindicator. "I think a lot of the hotels in the area really show well, especially for the value."
There's also the question of whether Mahoning County has enough space for the potential influx of workers.
In North Dakota, where drillers are exploring the Bakken Shale, workers have set up "man camps," or makeshift villages that house hundreds of workers due to the lack of lodging and housing options.
Planey doesn't think it will get to that point, at least not anytime in the near future.
"We're a bigger metro area, and we have more options," he said. "We'll probably have to think about long-term planning."
DOWN THE ROAD
So what long-term planning is practical?
Despite increased deposits from the thousand-dollar-an-acre natural gas and oil and leases, banks remain cautious about lending for hotel expansion.
"There's going to be a lot of demand on hotel space for three to five years," said John Gulas, president and CEO of Farmers National Banc Corp. "One of the things that banks will pay attention to is the business plan for the long term."
Gulas instead said that banks likely will target business and permanent housing as targets for lending authority.
"There is a lot of opportunity to the ancillary businesses," he said. "[Because] it's people buying and staying that's going to drive lending."
More like this from vindy.com