Ursuline grad Nick McGahagan catching NFL scouts' notice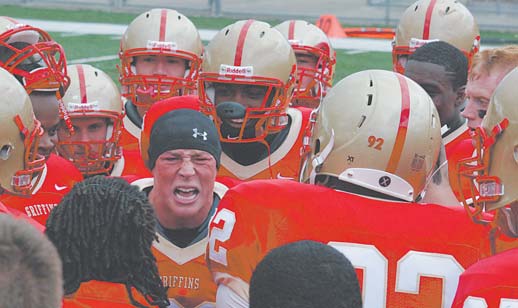 ---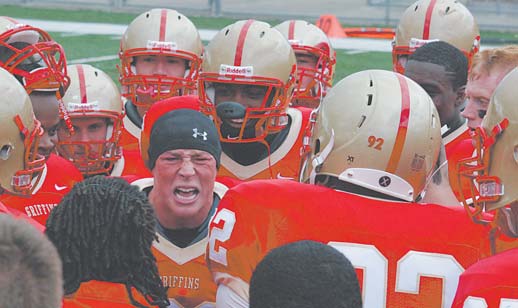 Photo
A 2008 graduate of Ursuline High School, Nick McGahagan fires up his Seton Hill teammates before a game this season. The Austintown native set school records in tackles and was named a Division II All-American with first-team West Virginia Inter-Athletic Conference honors.
At Seton Hill, Nick McGahagan played every down like it was his last.
Frankly, any given play could have been.
The linebacker, a 2008 graduate of Ursuline High School, suffered through two years of lingering problems in both shoulders — yet he still played on.
"There was multiple times during a game that I had to pop my shoulders back into place," McGahagan said. "I always felt the pain."
He still managed to make those two years, his sophomore and junior seasons, stand out. He was voted back-to-back defensive player of the year with 60 and 97 tackles, respectively. And in 2010 he was third nationally in tackles for loss with 27.
But the best was yet to come.
McGahagan underwent offseason surgery to repair a torn labrum and ripped ligaments in gearing up for his senior campaign. The end result: 101 tackles, 69 of which were solo — both Seton Hill records. The solo tackle mark led the West Virginia Inter-Athletic Conference and his 293 total and 183 solo tackles are career numbers at the Greensburg, Pa., school.
"I wasn't a real big stat guy," he said. "I didn't really care about my stats; I just wanted to win the game and when I walked off that field, I needed to look in the mirror and say I was the best player and that I gave it 110 percent."
Earning first team all-conference and third team All-American honors, McGahagan was one of 40 players nationally, and the first from Seton Hill, invited to the 2011 Division II vs NAIA Senior Bowl in Middletown, N.Y. He trained for a week and met a number of professional scouts and agents.
This past weekend, he was chosen to play in an FCS All-Star game, even though he plays at the D-II level. The game was in Myrtle Beach, S.C., but McGahagan had to decline in favor of taking his final exams. After all, the marketing major is a CoSIDA Academic All-American, too.
McGahagan will play in the Hansen Bowl in Virginia Beach, Va., on Jan. 19 — the No. 1 all-star game for small college players. It will be televised on ESPN and feature a Pro Day with a scouting combine.
"Hopefully something good comes from it," McGahagan said. "It would be great to get an opportunity to try out with a team or at least get a look. It's a dream to continue my career and hopefully play at the next level."
His profile is listed on NFLDraftStats.com and with Consensus Draft Services.
Through the injuries, setbacks and one-win seasons, McGahagan never turned on his morals. The Austintown native learned tough-love determination skills from his father, Dan, which were further enhanced by his defensive coordinator at Ursuline — newly named head coach Larry Kempe.
"My mentality has always been to be the best," McGahagan said. "Nobody competes with you and all you do is win. I always play every snap like it's my last because you never know what's going to happen."
More like this from vindy.com