Fitch halts years of Spartan torment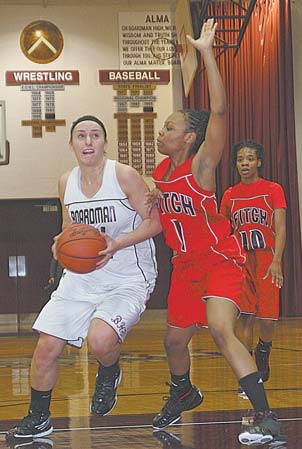 ---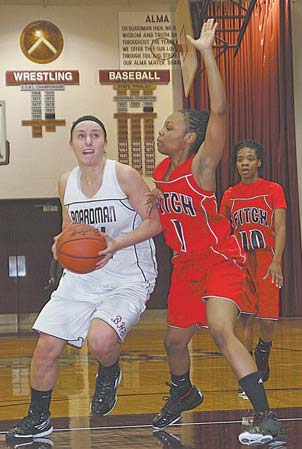 Photo
Boardman's Emily Gibbs tries to drive around Fitch defender Aallyah Sadler during Monday's game in Boardman.
BOARDMAN
She pumped her fist, smiled wide and let out a scream for 17 years worth of Fitch High girls basketball.
Anissa Hill described that moment when her Falcons secured a 41-27 win over Boardman as "crazy." It was the first time Fitch beat the Spartans in 17 years.
"It was really important to get this win," Hill said. "It's been 17 years since we beat Boardman and that's all I was thinking about. We just all wanted to bring our effort to the floor in that last quarter."
Fitch outscored the Spartans 16-4 in the fourth quarter, after Boardman rallied to earn its first lead of the game late in the third.
Hill scored six of her game high 15 points in the final frame and got help from Megan Sefcik who netted 10. A 6-0 run by the Falcons — all from Hill — to jump-start the fourth drowned away chance for a Spartan comeback.
She also got things going to begin the game with Fitch's only 3-pointer and seven points in the first.
It was a regular, old Hill-Sefcik variety hour in the Boardman Gymnasium with a sideshow act from all the Falcons.
"If it's not a team effort, we're not going to win," Hill said. "When we practice well as a team, we win as a team and finish as a team."
Brenda Thompson hit three key jump shots and tallied six points in the fourth. She was waiting in the wings as most of the Spartan pressure was put on Sefcik, trying to shut her down.
The sophomore guard handled it well, drawing fouls, dribbling through double teams and finding open teammates.
"I knew they were going to come after me from the beginning because they were face-guarding me," Sefcik said. "I had to do what I had to do and not fight back and just play my game."
The Fitch defense had a plan, too. They had a loose press going, but mainly picked up their girl beyond the 3-point arc.
They trapped when they could and forced the Spartans into 13 turnovers as they shot just 29 percent from the field and 50 percent from the foul line. The Falcons also held the rebound advantage, 38-13.
"Pressuring their guards and getting them to give the ball up was a game plan," third-year Fitch coach Stacie Cepin said. "We limited their shots and got the ball back when we could."
Although Cepin attended and played basketball for Campbell, she realized what the win meant for Fitch and all of Austintown. She very well could be dubbed an honorary leader of the Falcon roost for doing something that hasn't been done in nearly two decades.
"This is probably the biggest win for this program in a long time," she said. "Boardman is such a prestigious program that has won year after year. For our girls to step up and make a statement — I'm so proud of them."
With the pressure up top causing headaches, Spartan coach Jeff Hammerton yelled out "Gibbs" through the game's entirety in reference to 5-foot-10 forward Emily Gibbs.
"They were trapping, but we tried to get the skip pass and roll around," Hammerton said. "We looked to get it to Emily down low, but we just couldn't find it. When she did get her hands on it — she scored."
Gibbs, the lone junior, and oldest starter, finished with 10 points and five rebounds.
Megan Volosin nailed three 3-pointers for Boardman, including a second quarter triple that came off her own heroics. She lunged to save a ball falling out of bounds, dishing it to Brianna Fonderlin who found her a split second later setting up behind the arc.