Canfield students work to buy gifts for children
---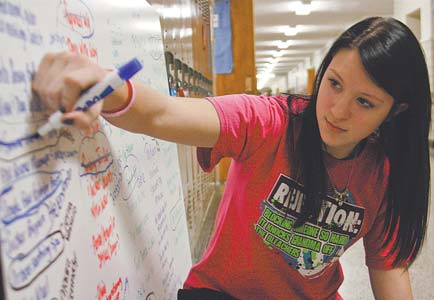 Photo
Morgan Leonard, 13, an eighth-grader, crosses a toy off the board Friday at Canfield Middle School. She was working on the Leo Club's Operation Christmas Carol, which collects toys for needy children throughout the Canfield area. The Leo Club is a student affiliate of the Lions Club. Members of the club earned money to help buy presents for children.
By christine Keeling
canfield
The holiday spirit is alive and well at Canfield Middle School.
For the fourth year, the school's 40 classrooms purchased presents for children in the community.
Operation Christmas Carol, which is sponsored by the Leo Club (a student affiliate of the Lions club), is giving gifts to more than 80 youngsters this Christmas and has given presents to more than 380 kids since it started.
"We help Canfield because we are one big family," said eighth-grader Morgan Leonard.
Leo Club participants' motto is "we do nice stuff," she said.
Each classroom was given a family with children. The students could pick the child they wanted to buy for, although they don't know their identity. A list of needs and wants were provided by parents.
Several seventh-graders worked for the money to provide for others, which is encouraged.
Sophia D'Alesio raked leaves for her grandmother for $10, Lexie Page said she was given money from her parents because she helps at Angels for Animals, and Sara Rogers helped her grandparents so she could buy a bicycle.
"She might not have a bike," Sara said about her child. "I know when I got my first bike, I was really happy."
Not wanting another child to feel left out moved seventh-graders Elana Slemons, Maddie Keyse and Elizabeth Pilolli to each put in $20 to buy a bike for their girl. When they were short $15, Elana's sister Brianna, 15, pitched in, too.
"I always get presents," said Maddie. "But what if you came down and there was nothing under the tree?"
The gifts will continued to be delivered to the families before the holiday.