Struthers Wildcats surge past Canfield Cards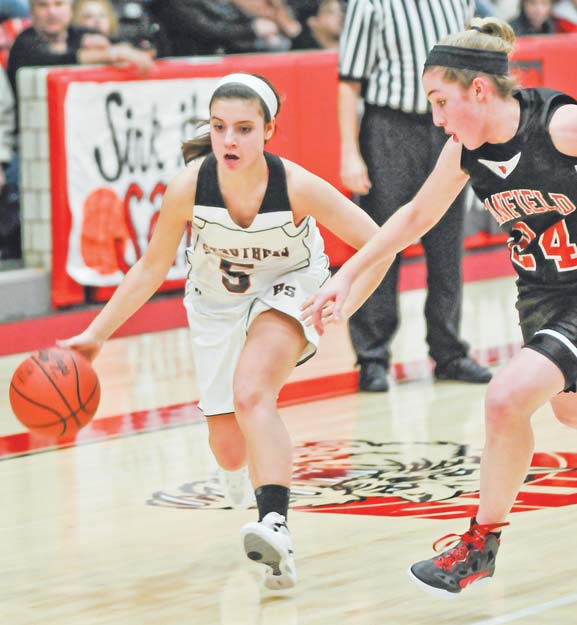 Photo
McKenna Shives (5) of Struthers dribbles around Canfi eld defender Rachel Tinkey (24) while on her way to the basket during an All-American Conference basketball game Thursday at Struthers Fieldhouse. The Wildcats defeated the Cardinals, 54-48.
By Greg Gulas
STRUTHERS
After their first five games, the Struthers High girls basketball team had trailed just twice.
On Thursday, Canfield built a 14-12 lead eight minutes into the game against the host Wildcats, forcing Struthers coach John Grandy to gather his troops in order to issue a subtle reminder about their play.
What he did was remind them that weren't playing as a team and not doing what was expected of them at either end of the court.
When play resumed, Grandy's talk seemed to work as the Wildcats went on a 17-0 run, then withstood a furious 15-2 rally by the Cardinals.
McKenna Shives scored a game-high 18 points as Struthers won, 54-48, in the All-American Conference opener for both teams at the Struthers Field House.
Shives connected on five of her team's eight buckets from beyond the arc to pace the Wildcats (6-0, 1-0).
"We play one possession at a time, but the first quarter kind of got away from us," Shives said. "Coach Grandy told us just to keep working hard and as long as we work together as a team, then we would be alright.
"Canfield is an excellent team, but we knew that coming into the game," Shives said. "We match up with them pretty evenly so we knew that we would be in for a tough game."
Canfield's Abby Baker scored five of her team-high 14 points in the opening period.
Two triples by Shives and five points by Halle Smrek keyed Struthers' 17-0 run as the Wildcats out-scored Canfield, 19-5 in the second quarter to forge a 31-19 lead at the intermission.
"If the truth be told, we really didn't make a lot of adjustments tonight," Grandy said. "We told the team to continue to play hard, hit the glass on the defensive end of the court and then make things happen when you have the ball."
Grandy called Shives "a gym rat who works her tail off all of the time; both in practice and in the game.
"Tonight, she hit some big buckets for us, especially from beyond the arc when we really needed them," he said.
After the Wildcats raced to the 12-point halftime advantage, the Cardinals (3-2, 0-1) had a run of their own brewing as two buckets by Rachel Tinkey keyed a 15-2 Canfield run, allowing them to re-take the lead at 34-33.
A bucket and two free throws by the Wildcats' Ashleigh Ryan, however, sparked a 6-0 run to close the third quarter as Struthers took the lead for good at 40-34 with one period remaining.
"Basketball is a game of runs and tonight Struthers had theirs and we had ours," Canfield coach Pat Pavlansky said. "We talk about achieving simple goals; outrebounding our opponent, winning the turnover battle and winning the battle at the free throw line.
"Tonight, we didn't reach any of those goals and even though you shoot 60 percent from the field in the second half, it's still very difficult to win," Pavlansky said.