Students use math for craft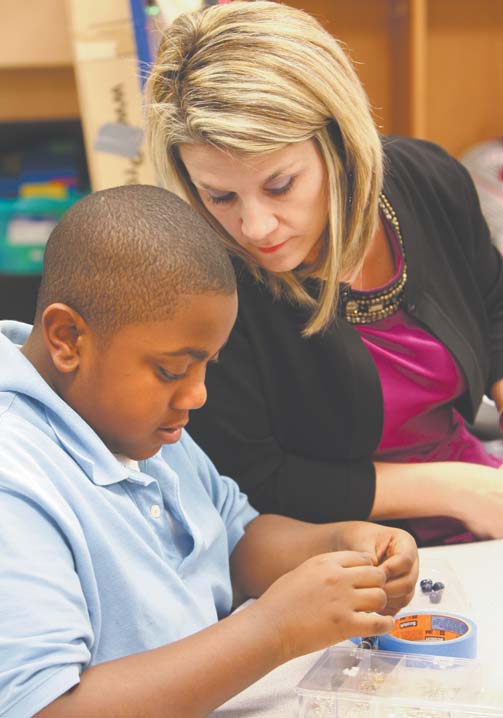 ---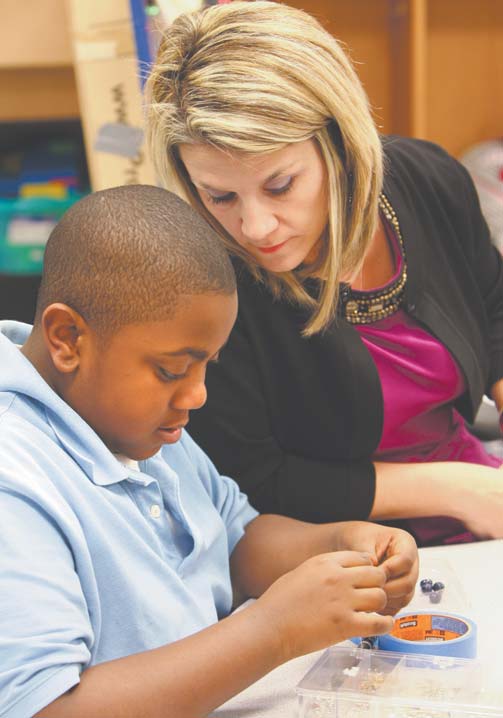 Photo
Bridgette Bobonick, a teacher's aide, watches as Darian Washington, a student at Kirkmere Elementary School in Youngstown, threads a bead onto a bracelet. Students at the school joined entrepreneurs of the Mahoning Valley as they made and sold bracelets and earrings to raise money for a field trip. The students used math and critical-thinking skillsin the project.
By Denise Dick
YOUNGSTOWN
Kirkmere Elementary School students Mailyn Bonilla and Michael Coudriet, both 10, practiced math skills and their creativity making beaded bracelets for sale at school.
"We made them," said third-grader Mailyn, standing behind a table of their wares.
"We made the bracelets in a pattern," added Michael, who is in fourth grade.
Each displayed their favorite. For Mailyn it was a bangle with large black beads. Michael selected one with metallic baubles.
The students in Mary Werblan and Kim Rose's cross-categorical classes at the school are selling the bracelets for $5 and earrings for $3 to raise money for a field trip to the Akron Zoo and to Amish country.
Cross-categorical classes include students with various disabilities.
"It involves math skills," Werblan said. "They learn patterns."
Rose said the students use 21st-Century learning skills, allowing the students to work collaboratively. Students respond to teachers' queries with extended written answers, adding language and writing to the lesson.
This helps prepare students for the Ohio Achievement Assessments, Werblan and Rose said.
Teachers and school visitors were shopping in the classroom jewelry store Thursday, and others expressed interest in buying them via Facebook, the teachers said.
Werblan's cousin, Kathie Nord of New Castle, Pa., donated the beads for the project, and both Werblan and Rose credit Principal Donna Cox Bing for her support of the effort.
Work started in September when the beads arrived. Posters on the classroom wall detail the completed work as well as the total raised so far: $245.
Rose said math skills play into that, too, as students track how much they've made.
The bracelets and earrings vary in color and size. Some feature plastic beads while others resemble brightly colored stones.
The students, who are also learning the basics of supply and demand, enjoyed the work.
"They're fun to make," Mailyn said.