St. Christine's see animals close up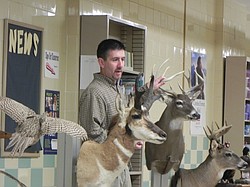 Photo
Neighbors | Sarah Foor .Womer also explained how antlers and horns differ during the Dec. 1 presentation. Womer said that the white-tailed deer (right) grows antlers, which will eventually fall off, while horns are permanent.

Photo
Neighbors | Sarah Foor .Third-graders Samantha Holden (left) and Jamie Gillian observed a deer pelt during the Dec. 1 presentation and ran their hands through the fur of the animal.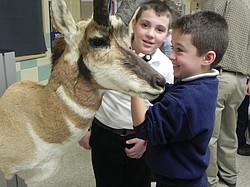 Photo
Neighbors | Sarah Foor .Third-graders Tyler Christie (center) and Matt Womer (right) got a closer look at one of the taxidermy pieces Womer's dad, John Womer, brought to St. Christine School on Dec. 1.
By SARAH FOOR
Taxidermist John Womer visited St. Christine School on Dec. 1 to share the details of his art with a group of third-graders.
The visit was initiated by Womer's son, third-grader Matt Womer, who told his classmates about all the animals displayed in his house during a science lesson.
"In the last few weeks in science, we've focused on animals and their classes – mammals or amphibians are examples. Mr. Womer's visit is wonderful timing and adds a really exciting component to our lessons," explained third-grade teacher Wendy DelBaccio.
Womer brought a collection of his taxidermy pieces and taught the students about the differences between certain mammals. Womer showed off a male and female ring-necked pheasant, explaining that the colors of the male bird are more pronounced as to attract a mate, while the female is easily camouflaged so that she can protect her young.
Womer also explained the difference between horn and antler animals, showing that horns are permanent and antlers are shed each year. The taxidermist showed off a small collection of white-tailed deer antler racks he has collected.
Although Womer admitted that there are plenty of messy parts of taxidermy that he must deal with, but he thinks the finished projects offer a unique opportunity for students to observe animals.
"In the wild, there is no way for students to see the details of an animal up close without getting hurt. When I began to work on a white-tailed deer piece, I started to notice their unique eyes, their noses and the dark color around their mouth. How could students learn details like that unless they got a closer look? I look at this as a conservationist – I want the kids to observe and learn from the pieces I present," Womer said.
By the end of the event, Womer's pieces became a makeshift museum, as students of different grades were welcomed to explore his display.