Rotary donates dictionaries to Watson third-graders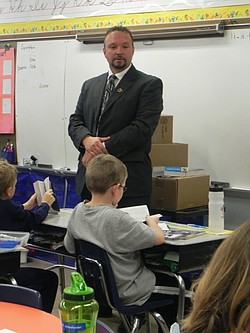 Photo
Neighbors | Sarah Foor .Austintown Rotary representative Mark Cole told the third-graders about some of the cool information featured in the donated dictionaries.
By SARAH FOOR
Austintown Rotary Club representatives Gary Reel and Mark Cole came to Watson Elementary on Nov. 21 bearing gifts — dictionaries for every third-grade student in the school.
The donation project, now in its 11th year, offers bookbag-friendly dictionaries to the third-graders, who learn dictionary skills throughout the year.
Cole and Reel traveled throughout the school telling the students about the Rotary International's mission to provide clean water around the world, eradicate polio and promote universal literacy.
"You'll always be able to use a dictionary, even when you're our age. I still use mine," said Cole as he handed out the books to the third-graders.
Along with words and their meanings, the dictionary given to the third-graders included an encyclopedia index that featured useful information like countries of the world, the American Sign Language alphabet and the Braille alphabet.
The last page of the book displayed the 1,909-lettter longest word in the English language.
In Dana Elias' third-grade classroom, Gary Reel joked with the third-graders.
"Miss Elias is going to be putting the longest word on your next spelling test. That is, as soon as she learns how to say it out loud," Reel said with a laugh.