Poland Village feeling merry and bright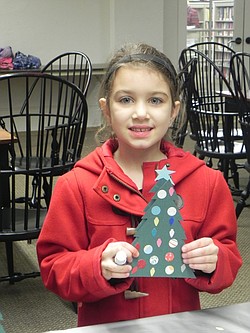 Photo
Neighbors | Sarah Foor .Peyton Shorthouse showed off the tree she decorated at the Poland library's craft zone during the Dec. 3 Lighting of Poland Village.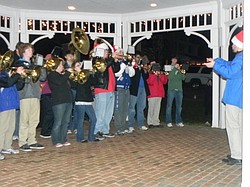 Photo
Neighbors | Sarah Foor .The Poland Seminary High School Brass Choir performed Christmas favorites in Poland's Town Hall Gazebo to entertain guests at the Dec. 3 Lighting of the Village.
By SARAH FOOR
Christmas cheer had Poland's Village Green feeling merry and bright during the Dec. 3 Lighting of the Village Christmas celebration.
Celebrations for the tree lighting took advantage of the pedestrian-friendly space near Town Hall and the Poland library.
The Poland library was the place to be for family-friendly entertainment. In the facility's activity room, kids decorated paper Christmas trees and made Santa faces on white paper plates. Librarians Anette Ahrens and Linda Kucalaba performed a holiday puppet show where the characters explored a reading of "The Night Before Christmas."
Mom Megan Shorthouse enjoyed the Poland library's activities with her daughter, Peyton.
"This is the first year that we've ventured out to the village lighting and we're definitely having a wonderful time. Peyton is a big fan of crafts to put around the house, so she's really perfecting her pieces," Shorthouse shared.
Once families bundled up in coats and mittens, the Town Hall Green offered hot chocolate, treats and Christmas carol performances from the Holy Family Youth Choir, the Poland Seminary Singers and the Poland Seminary Brass Choir.
With welcoming applause, Santa Clause arrived on a fire truck and then listened to the wishes of Poland girls and boys from his chair on the Town Hall porch.
The lights on the community Christmas tree were lit promptly at 7 p.m.
Tessa Martin enjoyed the event with her son, Alec.
"The village lighting is one of the reasons why I love living here in Poland – we attend every year. The warm, community feeling in the village is no better than it is during Christmas," Martin said.