Pee Wee Phantoms settle for pair of ties

Photo
Neighbors | Submitted.Devin Whitaker (6) and Mike Fetsko watch as a Phantoms shot heads toward the goal.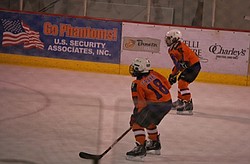 Photo
Maguire Franko and Keith Smith hold their defensive positions during a recent Phantoms Pee Wee game.
The Youngstown Phantoms Pee Wee team skated to a pair of tie games last weekend, both on the road.
On Saturday, the squad traveled to Southpointe to face the Rink Rats. After the hosts took a 4-2 lead in the third period, Youngstown rallied with a pair of late goals to salvage a 4-4 tie.
Devin Whitaker (Boardman) scored a goal and added two assists to lead the squad. Also scoring for the locals were Bo Gray (Boardman), Dominic Joseph (Canfield) and Trey Imhoff. Goalie Colin Frost (Boardman) faced 18 shots on goal.
The Phantoms opened the scoring at 6:52 of the first period when Imhoff scored off a rebound from the goalie. Whitaker assisted on the play.
One minute later, Southpointe evened the score at 1-1 and later took their first lead with only two seconds left in the period.
The second period was scoreless until Whitaker scored with only one second remaining to even the game at 2-2.
After Southpointe seized a 4-2 lead with two third period goals, Joseph cut the deficit to 4-3 with 3:19 remaining in the game, off an assist from Whitaker.
The Phantoms pulled their goalie with less than a minute remaining to allow an extra attacker. The move paid off when Faloon raced the puck up the ice and passed to Gray for the tying score with only 35 seconds remaining.
The tie earned the Phantoms a point in the standings.
On Sunday, Youngstown hit the road for a game against the undefeated Allegheny Badgers. Despite taking a 2-0 lead in the first period, penalties got the best of the Phantoms and Allegheny rallied for a 2-2 tie.
Youngstown scored first at 8:23 of the first period on an unassisted goal by Whitaker. At 4:21 of the same period, Whitaker scored his second goal of the game on a breakaway attempt to give the Phantoms a 2-0 advantage.
That's when the penalties started to mount. At 9:33 of the second period, the Phantoms were called for checking. About a minute later, at the 8:37 mark, Youngstown was called for tripping and were faced with a 5-on-3 disadvantage.
It got worse. A minute later, the Phantoms were called for a third penalty, leaving three players in the penalty box. Playing shorthanded that long got the best of the Phantoms when Allegheny scored at the 7:16 mark of the period. The Badgers tied the score at 2-2 at the 1:57 mark of the second period.
The teams combined for just three shots on goal in the third period, with neither squad lighting the lamp.