Valley recorders brace for title search onslaught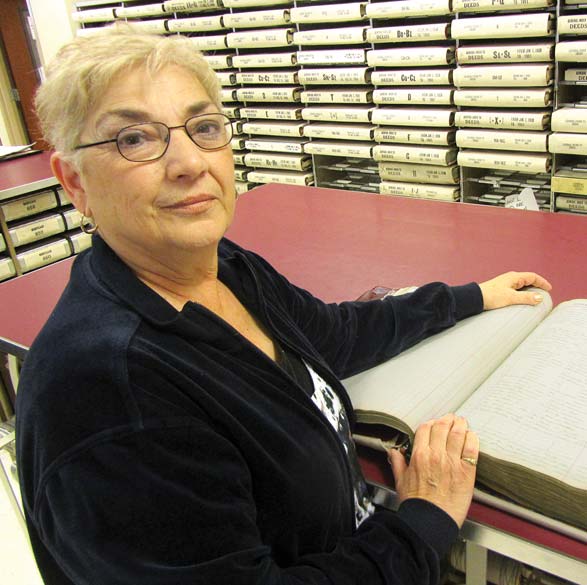 ---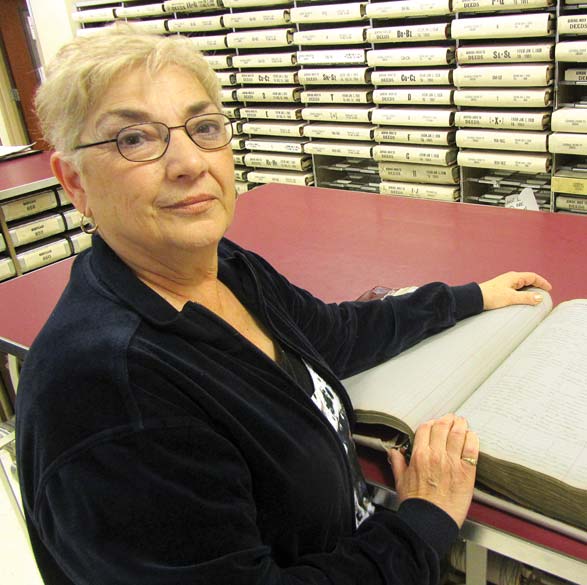 Photo
Diana Marchese, Trumbull County recorder, stands with a 100-year-old index book for property deeds at the recorder's office. The book is an example of the good condition they are in now, and Marchese hopes they will stay that way. But she expects the title searchers who use them to increase in number in the weeks to come, as about 80,000 Trumbull County acres are leased at once for shale drilling.
By Ed Runyan
WARREN
Recorder's offices in Mahoning and Columbiana counties have experienced dramatic increases in business from title searchers checking into property for use in Utica Shale gas drilling, and Trumbull is expecting to be next.
Diana Marchese, Trumbull County recorder, says the number of title searchers using the eight computers and numerous volumes of indexes is likely to pick up in the weeks to come.
The office now has about a dozen title searchers in the office at a time — about half of them working on shale property.
Marchese believes there's room to accommodate about 25 searchers at a time, but she's been approached by a representative for a shale-related company who has asked if the county would consider expanding office hours and accommodating 40 for four months.
The representative told Marchese $100,000 is available to pay for additional staffing to provide the expanded service, Marchese said.
For now, Marchese is holding off on expanding hours until it's certain the title searchers are coming. "We were told they were coming before, and it never happened," Marchese said.
She expects the influx to occur when negotiations between the Associated Landowners of the Ohio Valley and an unnamed oil and gas driller are complete.
ALOV is representing 1,100 Trumbull County landowners who control 80,000 acres. A deal is expected at any time, Marchese said.
Marchese said she sees no reason why hours at her offices on the first floor of the Trumbull County Administration Building across from the Trumbull County Courthouse can't be increased four to five hours every evening — until about 9 p.m.
In addition to the office areas the title searchers or "landmen" will use, Trumbull County already is making table space available.
Title searchers are being allowed to use the meeting room on the fifth floor of the administration building and the basement lunchroom, Marchese said.
Table space of that type provides the searchers with space to use their computers. Many of the records are available at the recorder's office website, Marchese noted.
Though some counties have experienced problems with historical property-record books being damaged, Marchese is hopeful Trumbull won't have that problem.
All records from 1980 onward are available online. Records dating from 1980 to 1795 are in physical form, but most are copies of originals, Marchese said.
In cases where a searcher requests a deed that is in original form, it will be copied and an electronic copy will be created at the same time so that anyone needing that record a second time will not need to handle an original document, Marchese said.
The property index books are stored in the main area of the recorder's office, where staff members can monitor title searchers for behavior that could damage the records.
"We'll be able to observe or hear anything," Marchese said.
Another plus is that the indexes for the county's leases have been scanned and soon will be available online, making it possible to do that work from another location.
Marchese said it's important that the shale-lease title searchers, as well as the county's regular customers, are able to obtain the information they need.
Traditionally, the most common use for the recorder's office has been to obtain information when a piece of property is purchased or refinanced, Marchese said.