Middle school wrestlers win Canfield Challenge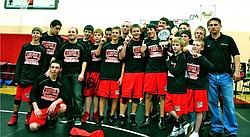 Photo
The Canfield middle school team poses for a picture after winning the Canfield Challenge team championship.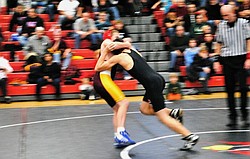 Photo
Canfield's David Labra (right) overpowers his opponent in the championship bout against Southeast last Saturday.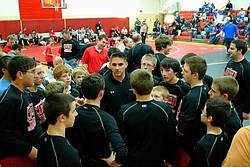 Photo
Coach Jason Neopolitan gives the middle school team a pep-talk after the match against Southeast during the Canfield Challenge last Saturday.
By LUCAS DAPRILE
Kyle West, CJ Frost, David Labra, Jacob Esarco and Nick Maxin all went undefeated in their respective weight classes, as the CVMS wrestling team won the Canfield Challenge tournament last Saturday.
The tourney consisted of 10 total teams, divided into two pools. After winning matches over South Range (81-9), Beaver Local (51-34), Alliance (62-24) and Boardman Glenwood (60-30), the Cards faced Ravenna Southeast in the finals. The squads dueled to a 45-all tie and the championship was decided by the application of tiebreakers. Canfield won the team title thanks to a 7-6 advantage in victories by pin.
"Overall it was a team effort – guys pinning guys and not giving up pins made the difference," said coach Steve DeMaiolo. "Guys fought hard. We were aggressive the whole day and it paid off in the end. Southeast beat us last year, so it was nice to get them back."
Other teams competing in the tournament were Boardman Center, Poland, Hubbard and Girard.
Canfield is now 6-1 so far this season.
"This is one of our big fundraisers, a good warm-up for the rest of the season and a way to get experience," said assistant coach Stephen Pitts.