Dennis Ray captured after 2nd standoff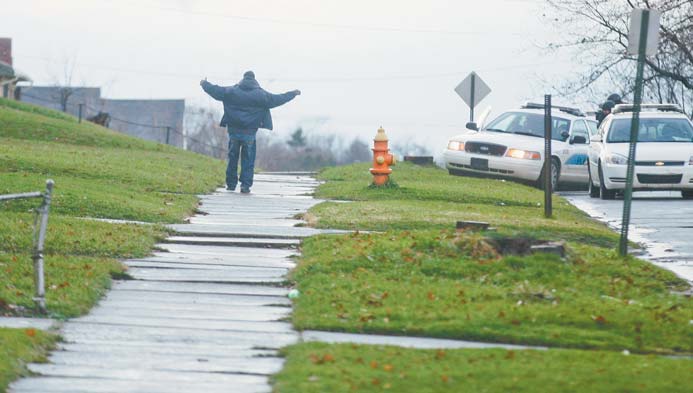 ---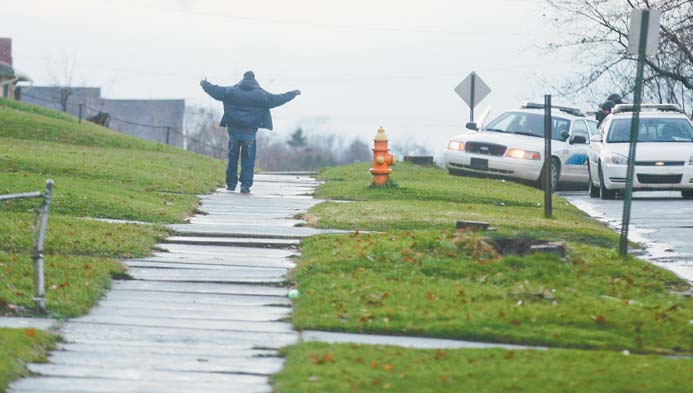 Photo
Dennis Ray, 50, of Browning Avenue surrenders to police on East Dewey Avenue after avoiding capture for more than 24 hours. Ray will be charged with discharging weapons in the city, inducing panic and illegal possession of a dangerous weapon.

Photo
YOUNGSTOWN
The man who managed to keep police at a standoff twice and avoid capture for more than 24 hours could be standing before a Youngstown Municipal Court judge today.
Dennis Ray, 50, of Browning Avenue, will be charged with discharging weapons in the city, inducing panic and illegal possession of a dangerous weapon. He was taken into custody about 4:10 p.m. Thursday after a second standoff with police, this time on the South Side.
Police had been following tips and searching the city for Ray after an early Wednesday standoff with police on the East Side.
Neighbors in the area of Browning and Stocker avenues heard gunfire throughout the neighborhood at 5 a.m. Wednesday, prompting several calls to 911. Police arrived to see Ray firing a weapon and then retreat into a home at the dead end of Browning Avenue.
Police from Youngstown including a tactical weapons team, Canfield, Boardman, Youngstown State University, along with the Youngstown Fire Department and Rural Metro ambulance, surrounded the house. Tear gas was fired into the home, and officers searched the property, determining that Ray no longer was inside. The search extended throughout the East Side and eventually the city.
Police said Ray has an extensive criminal history and mental-health issues. Police considered Ray armed and dangerous.
John Elberty, commander of the Mahoning Valley Crisis Response Team, said officers spent virtually every hour after the initial standoff chasing down Ray sightings. Tips came in from all over the city from concerned citizens who saw the man.
One sighting proved particularly fruitful. Ray had been spotted early Thursday afternoon at the East Dewey Avenue home of an aunt. Police converged on the house, but Ray managed to escape out a back door before police arrived.
Ray returned to the Dewey Avenue home a short time later and again tried to escape out a back door when he learned police were near the house. Officers surrounded the house before Ray could make an escape.
Officers spent a considerable amount of time coaxing Ray to exit the house, using a loudspeaker inside one of the marked cars. When Ray did not exit, negotiators attempted to reach Ray on a telephone inside the home.
Officers eventually saw Ray moving around inside the house and persuaded him to come to the door. A short time later, he exited the front door, walking slowly and smoking a cigarette.
Ray was ordered to fall to his knees with his hands raised and was taken into custody. Elberty said Ray offered no resistance and did not speak much once in custody. He was unsure if Ray would be taken to a hospital for psychiatric evaluation.
A Mahoning County grand jury indicted Ray last month on charges of criminal damaging or endangering.
Ray, according to Mahoning County Common Pleas Court files, was found guilty of breaking and entering in 2009 and sentenced to 11 months in prison. He also was convicted of receiving stolen property in 2008 and sentenced to one year in prison.
County records show Ray was convicted of attempted theft and possession of criminal tools in 2006. He was sentenced to 18 months in jail on those charges.
Youngstown Municipal Court records show that Ray has faced charges in that jurisdiction including multiple counts of theft, possession of drug paraphernalia, burglary, resisting arrest and domestic violence. Those charges date back to 2006.