Key Club helps light up Poland Shepherd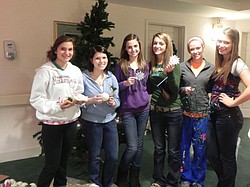 Photo
Neighbors | Sarah Foor .South Range Key Club members Jena Yambrovich (left), Madison Taylor, Matti Dunham, Taylor Hassay, Kelsey Maynard, and Holly Heck held up some of the ornaments that were headed for an unadorned Christmas tree at Poland Shepherd of the Valley.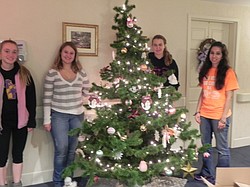 Photo
Neighbors | Sarah Foor .South Range High School Key Club members Taylor Shutter (left), Sarah Sabota, Lisa Stewart, and Maria Fazal posed with one of their fully decorated Christmas trees they helped trim at Poland Shepherd of the Valley on Nov. 30.
By SARAH FOOR
The staff and residents of Poland Shepherd of the Valley decorated for the holidays with six festive Christmas trees. In what has become a Christmas tradition, students from South Range High School's Key Club traveled to Poland for the third year to help deck the halls and the trees in the Shepherd facility.
On Nov. 30, a small group of Key Club volunteers arrived at the facility with plenty of energy and heaps of Christmas spirit.
The holiday season is a busy time for the South Range Key Club, as members donate their time to bell ringing for the Salvation Army, caroling in the nearby community of Canfield and food drive programs during December.
However, the students say they enjoy being part of the Christmas season at Shepherd of the Valley.
"It makes me really happy to hear the residents tell us how the decorations and trees have brightened their day. Sharing that happiness is definitely why we do it," said Key Club member Sarah Sabota.
Key Club adviser Jennie Mamula said getting out in the community, especially during the holidays, teaches the students the true meaning of service.
"The students gain so much by meeting people from all walks of life and making time to give to others. The residents here give lots of praise and are really thankful for our work and the kids truly love to give their time," said Mamula.
As gratitude for their service, Poland Shepherd of the Valley provided a lunch of pizza, chips and cookies for the students. After lunch, the Key Club members decorated gingerbread houses that will also help to decorate the facility for the holidays.