Glenwood wrestlers open season with victories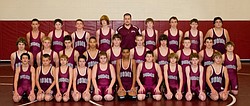 Photo
Photo courtesy of Robert Senn Photography.The Boardman Glenwood wrestling team open the 2011-12 season by competing in a tri-meet, as well as a pool tournament.
The Boardman Glenwood Middle School wrestling team opened its season at Brookfield by splitting a pair of matches.
The Spartans beat Liberty 34-31, but lost to Brookfield 45-39.
The squad also traveled to Canfield to compete in the Canfield Challenge dual meet tournament last Saturday. The Spartans went 3-2 in the pool tournament.
Boardman lost to team champion Canfield 60-30 and fell to Beaver Local 45-42. The team rebounded to beat Alliance (48-42), Poland (48-42) and South Range (76-10).
Marcus Webster, Matt Maroni, Richard Craig, Conner Kochansky, David Dutko, Danny Boerio, Nick Patoray, AJ Pantaleo, Cole Pollack, Sam Varga, Richard Fisher, Seth Golden, Tyler Stolar, Tyler Dempsey, Alex Birchfield, Jared Hoover, Brandon Alm, Greg Beule and Nick Tomasko all won matchers at the tournament.