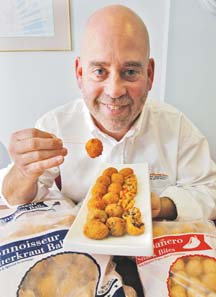 Photo
Keith Kropp, CEO of Or Derv Inc. in Akron, showcases the new Olivation line of products and the traditional sauerkraut balls.
McClatchy Newspapers
AKRON
Forget cookies.
Keith Kropp wants you to think of sauerkraut balls this holiday season.
At the small Or Derv Inc. in Akron, Kropp's elves are making 100,000 of the iconic Akron treats a week.
Or Derv makes Bunny B sauerkraut balls — a holiday staple in the area for decades — and the newer Connoisseur version.
"We were doing about 40,000 balls a week this time of year when I first bought the business six years ago," Kropp said. "Now — during our busy season _— we're up to 100,000."
Kropp bought Or Derv in 2005 and has been expanding sales ever since, while keeping operations lean.
The company had only three employees in 2005; now it has seven, including Kropp, who is CEO.
One of the newer retail customers is area Sam's Club stores.
"Sam's Club is late getting them in this year," Kropp said. "We've already had emails from people saying, 'I bought sauerkraut balls from Sam's Club last year and they're not in.'"
Or Derv workers make the appetizers in —where else? — the company's "Ballroom."
The employees use a Willy Wonka-like contraption that isn't too much different from the machine used years ago at the company, whose roots go back to the 1960s.
Kropp, speaking loudly over the din of the machine, points out that the morsels begin as "little plugs" of sauerkraut and ham mixture. "They are then rounded," he said, before going through "a waterfall of batter and a waterfall of breading" and traveling via conveyor belt into a large fryer.
Then, workers place them on trays for cooling and freezing.
Some sauerkraut recipes call for ground pork; Kropp uses lots of ham in his Bunny B and Connoisseur products.
While it's peak production time for sauerkraut balls, the company isn't surviving on these morsels alone.
Or Derv has been expanding its line — to include everything from Reuben Snack Bites to a battered and breaded cheese curd — as it seeks to grow in the frozen appetizer market.
Kropp also wants to make his operation less seasonal as sauerkraut ball sales peak in October through January.
"We were looking for other products so we don't have so many peaks and valleys," Kropp said, declining to reveal annual sales.
The newest addition is Olivations — a line of battered and breaded balls featuring diced olives blended with cheese, seasonings and other ingredients. This line, which is being sold to restaurants, includes the Black Olive Asiago appetizer, and the Olive Italiano, which boasts Italian sausage.
"The response has been great," Kropp said. "We really feel the Olivations are going to give the sauerkraut balls a run."
Also on Or Derv's menu: custom-order products for restaurant chains and other food manufacturers.
For example, Or Derv makes the deep fried pickles on the menu at Jimmy Buffett's Margaritaville Cafes, in various tourist destinations.
Kropp said the company focuses on the unusual.
"We came out with the Wonton Popper," he said of the treat featuring jalapeno and cream cheese, or jalapeno and bacon and cheddar. "Everybody has the jalapeno popper. It's been overdone."
Still, sauerkraut balls remain among the company's top sellers.
Kropp figures most of them are sold within a 50- to 75-mile radius of Akron. He noted he has landed some big accounts in the Cincinnati and Pittsburgh areas.
Bunny B balls are available at Acme Fresh Markets, Giant Eagle stores, Buehler's and other grocers, as well as at some restaurants. Most restaurant customers carry the Connoisseur balls.
Regional food distributor Tasty Pure Food Co. delivers Or Derv sauerkraut balls to dozens of area restaurants.
Few eateries make their own, Tasty Pure Food's Greg Heilmeier said.
But, Heilmeier said, he's found little interest in the sauerkraut balls south of U.S. Route 30.
While OrDerv sales have grown through the economic downturn, operations have stayed lean.
Production Manager Shannon Evert points out that at times Kropp has made and packed products.
"We have no maintenance man," Evert said, noting that he and Kropp repair machinery.
Kropp did invest in a larger location in 2008, moving Or Derv from 53 S. Maple St. in Akron to a renovated building at 957 Johnston St.
The move came just three years after Kropp bought the business from an area family, who had acquired it in the 1990s. At one time, the Bunny B brand was part of the old Salem potato chip company.
Kropp, in the food industry for about three decades, is the former chief operations officer for Main Street Gourmet, maker of frozen bakery items in Akron. Main Street Gourmet bought Kropp's Cambritt Gourmet Cookie Co. in 1996.
Kropp said he likes having his own company again.
"I love the development part," he said. "I like the growing part ... I love sauerkraut balls."