---
Tuesday, December 13, 2011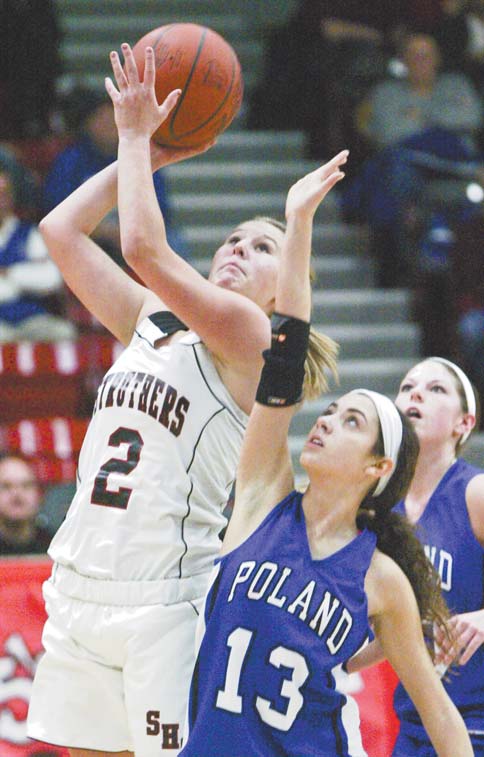 Photo
Struthers' Ashley Hefferon shoots past Poland's Abby Brenoel during the first quarter of Monday's game at the Struthers Fieldhouse.
STRUTHERS
Both the Poland and Struthers High School girls basketball teams came into Monday night's game at the Stuthers Field House undefeated.
Something had to give and undoubtedly — it did.
The Wildcats held the Bulldogs scoreless in the first quarter, while netting 20 themselves. It eventually led to a 62-34 victory for the home team.
"That was tough to see," Poland coach Nick Blanch said. "We didn't execute and SSLqShe's a joy to coach and it's going to be fun to watch her development."
In order to halt the onslaught, Poland tried a loose full-court press the rest of the game, but the Wildcats broke it perfectly and created 17 assists in the process.
"Our guards are good and they've stepped up early here," said Struthers' Hannah Dubec. "They knew the situations and they know how to play the game."
The first Bulldog points came early in the second when Maura Bobby stole a pass in the Wildcat paint before taking it in for a layup. She missed, but was fouled and hit one of two free throws. She was 6-of-7 from the line and was second on the team with eight points.
Poland took more time on their offensive sets to slow things down on its end. It paid off creating more opportunities as Abbie Frank hit a pair of 3-pointers and led with 10 points.
"I told them, games like this show the true character of a basketball team. Are you going to be a team that sits there, sulks and points fingers, or are you going to be a team that continues to play and pick one another up?" Blanch said.
He thought his team responded well, for the most part. But the Bulldogs' size limited them in trying to stop Dubec and a host of Wildcats on the glass. The lone Struthers senior, Dubec, finished with 12 rebounds and 12 points, as Ashley Hefferon grabbed nine boards and had four points.
"Some games are won on the glass," Grandy said. "I thought our kids grew a little bit today because we are a good team and this just fed into their confidence."
It helps that they're well-balanced.
"We can attack from the outside and the inside," Dubec said. "If the other team takes away one of those, we're still really strong on the other side."
It was hard not to look at the scoreboard early, Dubec admitted, but keeping a level head was also a key to the big win.
"We just tried to stay focused because we knew that anything could happen," she said. "They could have come back if we got out of it. We thought of it like it was 0-0 at the beginning of the second half."
Brittany Zupko and Ashley Kane had nine and five points, respectively, off the bench. All Wildcats on the varsity roster saw game action.