Land lab will benefit students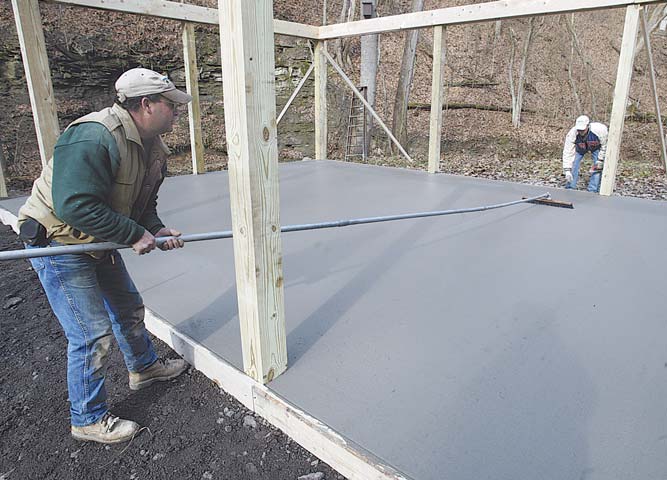 ---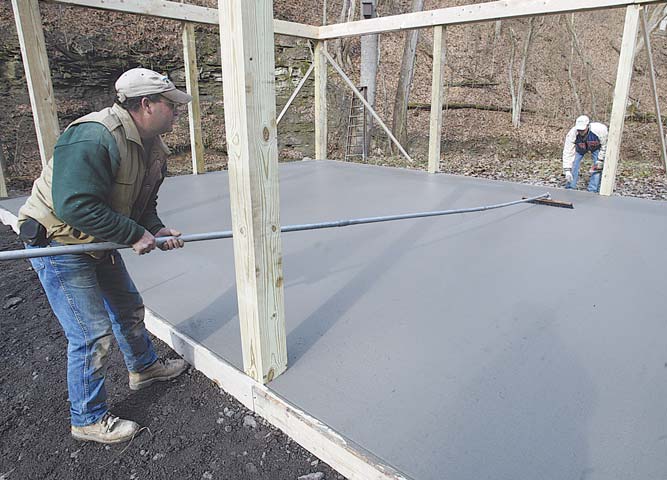 Photo
Paolo Ricottilli, left, and his brother, Lee, put the finishing touches on a concrete pad that will be the floor of the new Lowellville School District science lab in Pine Hollow Park. The brothers own Ricottilli Construction of Poland Township.
By jeanne starmack
lowellville
Between the steep sides of a gorge covered with trees and mossy rocks, a new pavilion waits beside a running stream for its first batch of budding scientists.
It's going to be sparse — with just a cement floor under a roof, and eventually, there will be electricity. But that pavilion represents to students in the Lowellville School District the chance to get their feet wet, not only in the small stream that runs through the gorge called Pine Hollow Park, but in the natural sciences.
"It's a perfect spot for a land lab," said schools Superintendent Rocco Nero at his office Friday. Over in the park off Walnut Street, Poland Township contractors Paolo and Lee Ricottilli of Ricottilli Construction were waiting for the concrete slab to dry. The wooden frame that will hold the roof was already up.
Nero said that beginning this spring, students from kindergarten through 12th grade can gather at the pavilion for science lessons.
Students know about the pavilion and have given input about what they would like to have there, he said. A bike path is one suggestion.
For biology and environmental science teacher Jackie Boila, the pavilion offers a better chance to interest kids in the natural sciences.
"We go to the park anyway twice a year to do water-quality analysis," said Boila, who teaches biology to ninth- and 10th-graders and environmental science to 11th- and 12th-graders.
Now, the site will be a little more accommodating, she said: "It will be an outdoor field lab instead of just tarps on the ground."
Boila said her older students also do a tree-identification project, but the field lab will allow younger students to explore the gorge as well, identifying tree leaves and animal tracks.
The village, which owns the park, will maintain the pavilion for the school district, Nero said.
Nero said the pavilion will cost around $10,000. The school district matched a grant of $5,000 obtained with the help of Youngstown State University's Center for Transportation and Materials Department. Joann Esenwein, director of the department, wrote the grant application, he said.