The new jobless have many faces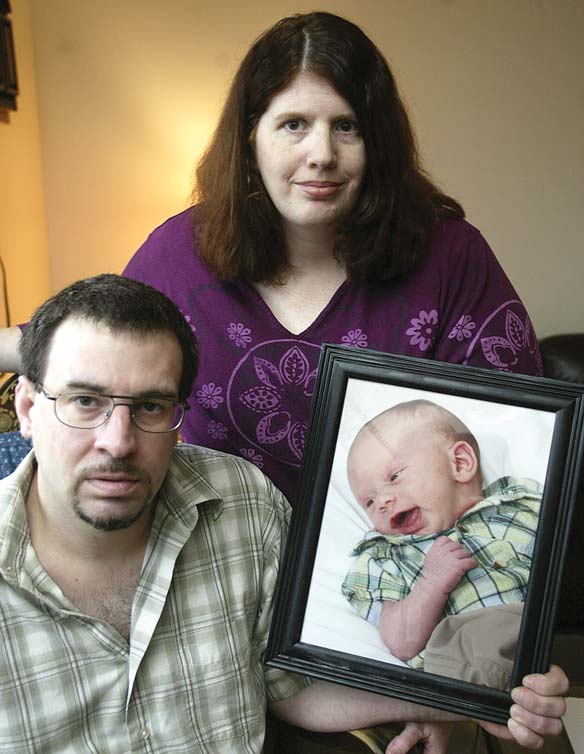 Photo
John Gifford and his girlfriend, Heather Olsen, hold a photo of their 4-month-old son, Tyler, in their Austintown home. Gifford is unemployed and is having a difficult time finding work.
By Karl Henkel
YOUNGSTOWN
Few areas felt the brunt of the recent recession more than the Mahoning Valley.
Unemployment skyrocketed to 13.8 percent in 2010 and today still remains significantly higher than the national average.
But with the trough of the recession now in the rearview mirror, the economic mess that still remains is new and intriguing, experts say, and there's no real blueprint for a return to prosperity.
"I think it's very difficult," said Bert Cene, executive director at the Mahoning and Columbiana Training Association. "Over the last year or two, we've seen things that are not historic."
But a new report from the Ohio Department of Job and Family Services — a profile of unemployment and a post- recession analysis — shows Ohioans what's needed to get back on track.
The report also showed that there's no one "face" of the unemployed; the recession showed no mercy, regardless of sex, race and to some extent, education.
There are those such as John Gifford of Austintown, unemployed for just a short time but frustrated with job prospects and how he'll go about supporting his girlfriend and 4-month-old son.
There are others such as Matt Stockfleth of Youngstown, who considers himself "perpetually" unemployed, despite education from Youngstown State University.
Then there's Amber Hahn of Struthers, who finished her military service in September and has been unemployed ever since.
"The economy has gotten so bad that people who want to stay in the military are getting denied," she said. "And it's hard to find a decent job after getting out."
WHO THEY ARE
Ohio's 2010 unemployment rate was 10.1 percent.
But what did that 10.1 percent look like?
Men had a 3 percent higher unemployment rate than women.
It's sort of a "mancession," said Tod Porter, economics department chairman at Youngstown State University. "Men tend to be a higher percentage of the work force in sectors [such as manufacturing] that are more sensitive to swing through the economy."
Age was another factor.
Those in the 16-to-34 age group had higher unemployment rates than the state average, led by the 1 in 4 people ages 16 to 19 who were jobless.
Those who had a college degree had the easiest time finding work.
Only 2.9 percent of those with a bachelor's degrees were unemployed during 2010.
That rate was lower than the national average for those with bachelor's degree, which was 5.4 percent.
Despite that, Cene said those with degrees aren't coming out of the woodwork.
"We continue to see people with bachelor's degrees and master's degrees who are still looking for work," he said.
"But what we're seeing now is a need for career and tech type of occupations, skilled trades. That's really in demand around here."
But even skilled trades aren't guaranteed.
Gifford, a Chaney High School grad, was a union iron worker for 11 years before he decided to look for something with longer-term potential.
Gifford has looked for an assembly-manufacturing job the past four months, but nothing has stuck.
Now, he's $2,000 behind in rent, has received an eviction notice and feels as if his back is against the wall.
"I had a plan, and it totally went south," he said. "It's frustrating."
Even those with only a high-school diploma fared better than the statewide average. High-school graduates had an unemployment rate of 7.9 percent.
Race also played a factor.
Black Americans had an unemployment rate of 16.9 percent, compared with 11.6 percent for Hispanics and 8.2 percent for Caucasians.
A LONG TIME COMING
From January 2008 to April 2011, Ohio lost 332,700 jobs, about 6.1 percent of employment, excluding nonfarm payroll.
From 2002 to 2008, only about 50,000 to 80,000 workers statewide were unemployed for more than six months.
But by 2010, that number jumped to 250,000.
The recession has led to worker discouragement, a phenomenon where many decide to give up looking for work and leave the labor force.
The labor force is the proportion of the population age 16 and older that is working or is looking for work.
"That's kind of been a nationwide phenomenon," Porter said. "The number of workers that have been unemployed this long is the distinguishing characteristic of this recession. During the previous post-recession downturns, you haven't seen anything like this."
Of those discouraged workers, nearly half said they had no job because either they could not find work or they believe there is no work available in their area of expertise.
Stockfleth has looked for work for more than two years and currently lives off student loans. He came to the Valley from the West coast. He's worked in retail, managed a restaurant and even spent some time as a flight attendant.
"The most frustrating part in my job search is that I have all this experience, but no jobs," he said.
Now, he's back at YSU trying to finish his degree.
He is the one in five discouraged workers who said they are unemployed because they are in school or receiving other job training.
Of those who lost jobs between 2007 and 2009, only half had found new work by January 2010.
"It's really two different ends of the spectrum," Cene said, describing the job-seeking process of going from "paralysis" — giving up — to "analysis" — deciding to be proactive and move forward.
"Some just seem to be in limbo at this point. They're not sure which way to move forward, or should they find some entry-level job."
Cleveland-based economist George Zeller said the state's economy is treading calmly but positively.
"We are getting slow growth now which is good," he said. "But we need substantial job growth over a period of time."