Event honors Kokrak's PGA feat
By Todd Franko
WARREN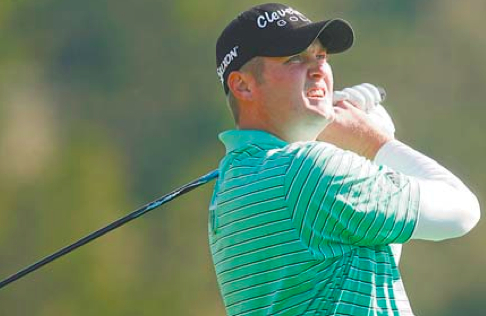 Photo
AP FILE PHOTO, NOV. 19: Jason Kokrak tracks his tee shot on the third hole at Pebble Beach third round of the 40th Annual Callaway Pebble Beach Invitational Pebble Beach, Calif.
Coming home for the holidays will be extra special for Warren native Jason Kokrak.
Home is where he hasn't seen much of the last several years as he chased a dream that started as an 8-year-old in Warren. That dream was to play on the PGA Tour.
"I grew up idolizing Tiger [Woods] and Phil [Mickelson], and now I get that chance to be with them," said Kokrak, who qualified for the 2012 PGA Tour with a stunning fall performance on the feeder Nationwide Tour that seemed to come out of nowhere.
But "out of nowhere" was nearly two decades in the making along many Valley courses.
On Dec. 21, the Valley golf community will get to celebrate with Kokrak in becoming the first Valley native in more than 30 years to earn a regular spot on the PGA Tour.
"An Evening with Jason Kokrak" is being hosted by Trumbull Country Club and The Vindicator at the course the 2003 Warren JFK grad called home for many years — TCC.
The event will begin at 7 p.m. at TCC and will feature a salute to Kokrak from the Valley's former PGA players.
Admission is $25 per person. Children under age 14 are free with a paid adult. Tickets are available at TCC offices. Call 330-372-4024 for ticket information.
"I get chills just thinking about coming home and reuniting with some old friends," said Kokrak.
Kokrak finished fourth on the 2011 Nationwide money list after competing in just over half the events. Wins in Boise, Idaho and Miami help toward a season purse of $338,092 and a visit to the PGA Tour Card presentation ceremony Oct. 30 in Jacksonville.
"That ceremony was special. I had my family and friends down there. We all stayed in a rented house. It was my dream come true," Kokrak said.
There's not been much time to settle since then as elevating his pro career has kept him pretty busy. Last week, he was in California working with the Cleveland golf club company, a sponsor for years and a continued one with a new contract he signed. He's in the process of moving to a bigger house in Charlotte.
"I just need more space. People keep sending me things every day. It's been crazy."
Despite the new attention and new riches, he's keeping his splurging in check. The bigger rental is about it.
"We've got to get out there and see where this goes. I put 140,000 miles on my car the last three years doing this on my own, and I got by," he said, laughing about an expensive couch suggestion from his girlfriend. "There's no hurry to live differently. At the start of last season, I had enough money in the bank only to get into my next tournament. If I lost, I was getting a job."
His job now is a PGA pro golfer.
John Diana, head pro at Trumbull and among the handful of teachers and mentors for Kokrak growing up, knew pro golf would be Kokrak's job at some point. He's glad to be hosting the Dec. 21 event.
"This is special for the Valley. We have a great golf legacy here, and we're overdue to get someone on the PGA Tour. Jason will do us well," Diana said.
The event will be the last chance to see Kokrak before he launches his PGA career in Hawaii in January. The Tour swings through Dublin, Ohio, in May.