St. Christine's inducts Beta Club members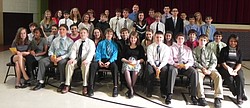 Photo
Neighbors | Sarah Foor .The eighth-grade inductees to St. Christine's Junior Beta Club celebrated their honor during their Nov. 11 induction ceremony.

Photo
Neighbors | Sarah Foor .To welcome the students as official members of Junior Beta Club, the eighth-graders repeated the organization's pledge, promising to be honest, offer service, and reflect credit upon their school and community.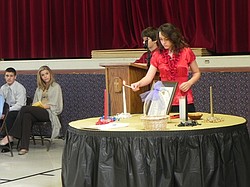 Photo
Neighbors | Sarah Foor .Eighth-grader Brigid Donofrio (right) lit the white candle during the Junior Beta Club induction ceremony on Nov. 11. White was meant to denote light, purity, and faith.
By SARAH FOOR
Eighth-graders recognized for their excellence at St. Christine's were recently honored with an induction into Junior Beta Club on Nov. 11.
The National Junior Beta Club, chartered at St. Christine's in 1994, strives to promote the ideals of academic achievement, character, service and leadership among elementary and secondary school students.
"We hope the eighth-graders consider their induction as a mark of honor in their final year as students at St. Christine's. They are recognized for their excellence at their current school and encouraged to pursue National Honor Society and other excellence organizations during high school," said seventh-grade teacher Angela Rozzo, who co-chairs the Junior Beta Club with Rosemary Scrocco.
Inductees to the Junior Beta Club at St. Christine's earned a pin and certificate and the students will be required to perform community service throughout their eighth-grade year.
During the Nov. 11 induction ceremony in Guttman Hall, family and friends were invited as students were honored with membership in the organization.
Principal Doreen DeMarco led the group in a prayer and congratulated the students on their honor.
"Your academic achievement, understanding of responsibility, leadership, and service will serve you well beyond the halls of our school and into adulthood," DeMarco told the students.
A candle-lighting ceremony was performed, where flames were ignited to represent the qualities of love, wisdom, faith, truth, dignity and fellowship.
The inductees performed the Junior Beta Club pledge and were officially welcomed.
More like this from vindy.com