Kindergartners celebrate with Thanksgiving Pow-Wow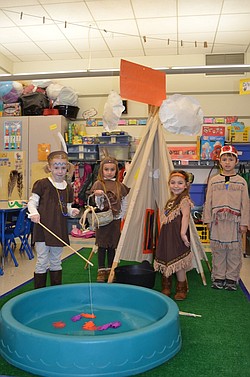 Photo
Neighbors | Submitted .Dobbins kindergartners Olivia Loftus (left), Giovanna Schiavone, Bianca Patrone and Nathan Engle explored a Native American teepee and went fishing in a makeshift "pond" during their Nov. 21 Thanksgiving Pow-Wow.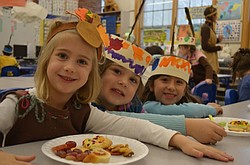 Photo
Neighbors | Submitted .Kindergartners Kendall Sampson (left), Nina Gordon and Maren Simon smiled as they enjoyed the bounty at their Nov. 21 Thanksgiving Pow-Wow.
By SARAH FOOR
For more than 30 years, Dobbins teacher Elaine Fabrizi has celebrated her annual Pow-Wow with her students to mark the Thanksgiving holiday. Fellow kindergarten teacher Stephanie Mateja joined Fabrizi and her students on Nov. 21 to give thanks.
The celebration began weeks ago when both classrooms learned about the history of the holiday through school lessons and informative presentations.
In November, the kindergartners learned about local Indian tribes and the Wampanoag Indians of Massachusetts during visits from Youngstown's Butler Museum and Arms Museum.
"We focus on the integral role that American Indians played in the first Thanksgiving. In that first feast, the Indians' planting and cultivation techniques provided much of the food. Beyond the holiday, I want the students to understand the importance of Native Americans in our country's history," Fabrizi said of the celebration.
During the Pow-Wow, the kindergartners created traditional Indian clothing, headdresses and tools from paper. The party included a giant tepee and a makeshift pond for the students to explore.
The students watched "The Mayflower Voyagers," starring Charlie Brown and Snoopy, to understand the voyage of the Pilgrims.
Being a Thanksgiving celebration, the students enjoyed a feast together and reflected on what they were thankful for in their lives.
More like this from vindy.com