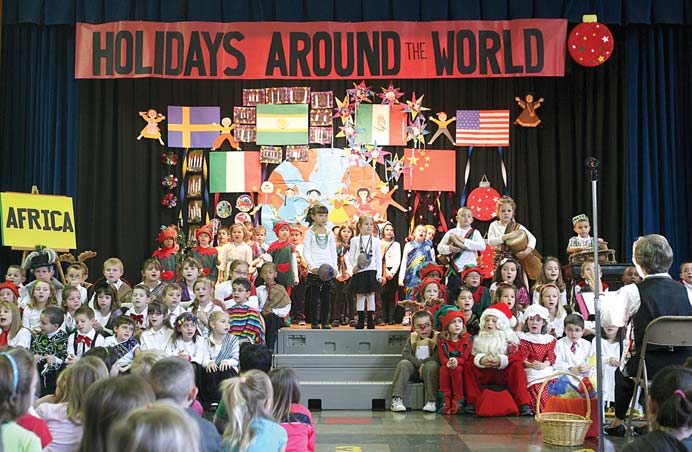 Photo
First-grade students at Lloyd Elementary School in Austintown entertain more than 100 friends and family members during their Holiday Around the World program. During the show, the students danced, sang and shared facts about how other cultures celebrate the holidays.
By christine keeling
austintown
Lloyd Elementary first-graders offered fun holiday facts to friends and family.
They gave an audience of more than 100 people Thursday a glimpse into celebrations across the globe as they performed their Holiday Around the World program.
The kids dressed in costume and sang songs native to cultures in Sweden, Italy, Mexico, China, Africa, Italy and the United States.
"It's a tradition at Lloyd," said Debby Fabian, the school's music teacher. "It's the combination of all students learning customs from around the world."
The customs they learned were shared as they moved from culture to culture.
In Sweden, the eldest daughter serves breakfast to her family members during their Dec. 13 celebration of Saint Lucia's Day.
Christmas in Africa is a summer-time celebration, the students revealed.
"It was a beautiful ethnic Christmas program," said Tom Shannon of Struthers.
He and his wife, Carol, attended the show to watch their granddaughter, Laci Shannon, perform.
"I'm Italian," said Carol. "I liked the Italian part of the show."
Nick Tibolla played a Santa-helping donkey that swayed and jumped as the crowd listened to the Italian Christmas song "Dominick the Donkey." Santa was played by Brogan Roby.
The show was the school's gift to the community, Thomas Lenton, the school's principal said to the crowd.
It is the fourth year the school has done an international-themed Christmas program.
More like this from vindy.com