Valley residents rally for stalled Nitro's Law in Columbus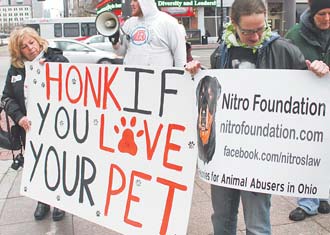 Photo
Liz Raab , left, whose dog died after being left in the care of a Youngstown kennel owner, and Dana Donnelly from Youngstown, rally near the Ohio Statehouse in Columbus for passage of a bill to allow felony charges against kennel owners who neglect or abuse animals.
By Marc Kovac
COLUMBUS
Liz Raab stood on a busy street corner near the Statehouse with a big sign reading "Honk If You Love Your Pet."
Raab loved her pet, a Rottweiler named Nitro who died as a result of extreme neglect at a Youngstown kennel. The dog was one of more than a dozen that were found dead or dying from starvation at the business.
Legislation in the Ohio House would allow increased criminal penalties against owners of kennels that abuse animals in their care. House Bill 108 passed out of a legislative committee in September but has not been brought up for a full floor vote.
On Wednesday, Raab and about 20 other pet advocates rallied outside the Statehouse, with hopes of persuading lawmakers to take action on the legislation.
"There's no reason it shouldn't go through," Raab said. "Nitro wasn't a Democrat; he wasn't a Republican. He wasn't a liberal or a conservative. He was our companion animal, and they deserve to be protected. The laws and punishments should not protect the criminals; they should protect the victims."
House Bill 108, titled Nitro's Law, was introduced by Democratic Reps. Ronald Gerberry of Austintown, D-59th, and Robert Hagan of Youngstown, D-60th, after a 2008 raid at the High Caliber K-9 on Coitsville-Hubbard Road, where humane agents found dogs suffering and starving. Eight died as a result.
The owner of the business faced four misdemeanor convictions and subsequently filed for bankruptcy, avoiding additional civil penalties.
House Bill 108 would make it illegal for kennel owners, managers or employees to abuse or neglect pets in their care. Those found guilty of doing so could face felony charges, and judges could place limits on their future ability to operate kennels.
Lawmakers have been working on the legislation for about three years. A related bill passed out of the Ohio House last session but died for lack of action in the Senate.
Raab and other advocates rallied with hopes that the new legislation would not face the same inaction.
"The animal laws in Ohio are painfully lacking in effectiveness," said Dana Donnelly, a Youngstown woman who made the trip to Columbus for the rally. She added later, "I would like to see animal abuse become a felony. ... As it stands, if you kill an animal, you get a parking ticket, and that's not fair. It's taking a life, and that should be a felony."
More like this from vindy.com