Chahine, Jacubec meet again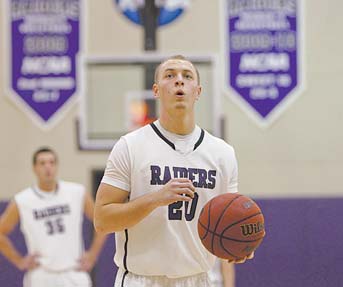 Photo
Mount Union freshman Nate Jacubec, a guard from Struthers, had two points and two rebounds for the Purple Raiders' in their 79-62 loss to John Carroll on Wednesday night. Jacubec is averaging 9.3 points per game for Mount Union in his first season.
By Tom Williams
ALLIANCE
Adjusting to college life and rules are among the lessons Cardinal Mooney High's Jeff Chahine and Struthers High's Nate Jacubec are being taught pursuing Division III college basketball careers.
Wednesday at Mount Union, Chahine came off the bench to score five points in John Carroll's 79-62 victory over the Purple Raiders.
A sophomore, Chahine transferred to John Carroll after one year at Northwood University in Florida.
"It's definitely a quicker pace, no doubt about it," said Chahine who has been averaging 10 minutes and seven points a game for the Blue Streaks (5-1, 1-0 Ohio Athletic Conference).
"Playing on this team, you've got to be able to run. That's what I think is my strong point.
"At Mooney, we would try to do this, but it wasn't like this," said Chahine, an accounting major from Canfield. "This is five-in, five out run-and-gun."
Jacubec could only watch as his Mount Union (3-3, 0-1) teammates fell behind 44-23 in the first half. For disciplinary reasons, the freshman didn't enter the game until four minutes had elapsed in the second half.
"It felt great," said Jacubec of the moment first-year coach Mike Fuline sent him off the bench. "I'm not going to let my teammates down again, that's for sure."
Jacubec played 11 minutes and scored two points.
John Carroll guard Corey Shontz led the winning attack with 29 points. In the first half, he sank three 3-pointers as the Blue Streaks shot 50 percent from behind the arc and 58 percent overall.
"They are a very talented, experienced basketball team," said Fuline, who coached Massillon Jackson to the Division I state championship in 2010. "They are one of the best 3-point shooting teams I've seen.
"We certainly gave them some very easy looks and that's unacceptable," Fuline said. "We need to get better, there is no doubt about it."
An accounting major, Chahine summed up his academic workload as "tough.
"John Carroll's business school is 26th in the nation right behind Boston College," he said. "It's a tough program."
Both reflected on their basketball memories.
"We had some good battles between each other." Jacubec said,
Chahine said, "He has a great move, great crossover, great shot. I knew what to expect from him and I'm sure he knew what to expect from me. We know each other from the court pretty well."
In the Purple Raiders' first five games, Jacubec averaged 10.5 points and 32 minutes per game.
"Nate has been fantastic," said Fuline, the nephew of longtime former Struthers High coach Joe Fuline. "He's kind of getting thrown into the fire — he leads the league in minutes played and as a freshman that's hard.
"He's got some pressure on him that probably shouldn't be on a freshman, but that's where we are right now.
"Through that experience, he will really become a good player through his four years here," Fuline said. "I'm excited to see him grow as a young man and as a player."
An engineering major, Jacubec said his classroom load demands much of his attention.
"It's a lot different," Jacubec said. "School is more like a job, and then you have basketball which is like having another job. It's like you're working double-time — it's hard to deal with."