Blinded by blood: Auction will help pay off medical bills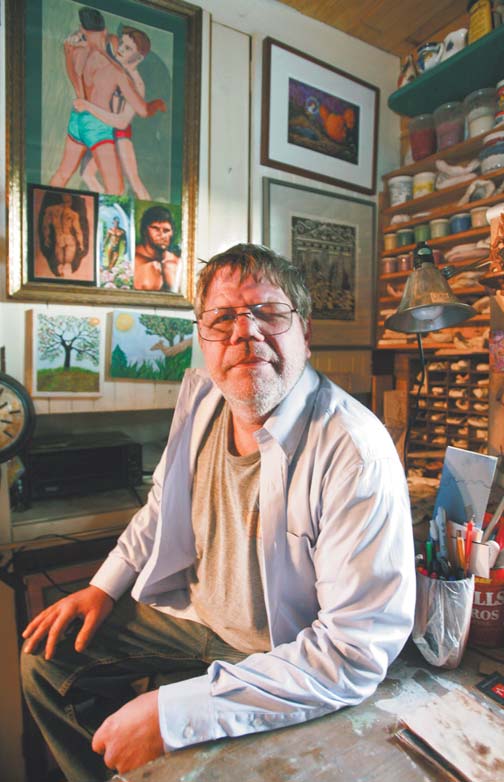 ---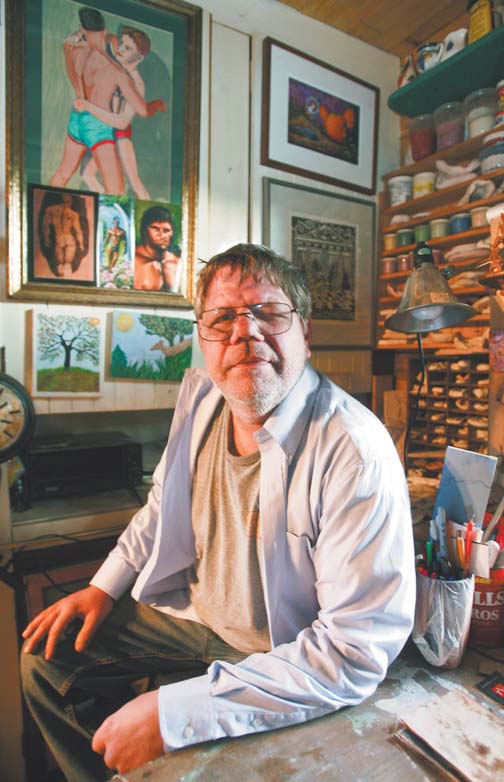 Photo
Scott Pergande, above, sits in his art studio in his Youngstown home. Pergande was attacked outside his home in August and lost the vision in his left eye. He will auction art from his collection Sunday to help pay his medical bills.
By GUY D'ASTOLFO
YOUNGSTOWN
Scott Pergande, a long-time local artist and art collector, was working in his garden behind his house last summer when he was attacked by a mugger.
He was struck repeatedly in the face with a hard plastic toy gun, causing him to lose the use of his left eye.
"He got me in the eye," recalled Pergande. "I was immediately blinded by the blood. I had gashes on my cheeks, a broken nose and I lost three front teeth."
That was Aug. 19. Since then, Pergande has been going back and forth to doctors. He said it will be at least a year before doctors can consider surgery to replace the lens in his eye to restore vision.
Pergande, 50, is in the paperwork-heavy process of obtaining funds from a state program that financially helps victims of violent crimes. But to pay off his current medical bills, he will have an auction of works from his art collection, plus a chance auction of some of his own works, at 5 p.m. Sunday at the Lemon Grove Caf , 122 W. Federal St., downtown.
Some of the area artists whose work will be included in the auction include Michael Green, John Ax, Jason Van Hoose, former U.S. Rep. James A. Traficant, Dr. Richard D. Murray, Joyce Bielik, Justin Terlecki, James L. Wick, Derrick Hess, Jim Lepore, Susan Russo and Bryn Zellers.
Pergande specializes in ceramics, and his strange-looking ceramic masks are fixtures in several downtown eateries and nightspots.
All of the artwork is currently on display at the Lemon Grove.
After the attack, Pergande rushed inside his Mahoning Commons neighborhood house. When he came back outside, the police had already arrived and the suspect — a 16-year-old boy from Youngstown — had been apprehended.
"A neighbor woman saw [the attack] about to happen," said Pergande. "She saw [the assailant] put a hood over his head and come at me and she called 911. The police caught him walking a few blocks away with blood on his T-shirt, legs and socks. He didn't know that anyone saw [the attack]."
As he was being pummeled, Pergande said he asked his attacker what he wanted. "He said, 'Give me your wallet'," said Pergande.
That turned out to be his undoing.
"I had checks in my wallet that were written out to me. When the police found the wallet with [the assailant], it proved that he had my wallet," said Pergande.
Pergande said his assailant has pleaded guilty and is awaiting sentencing.