Howland's Williams, Harding's Brown dazzle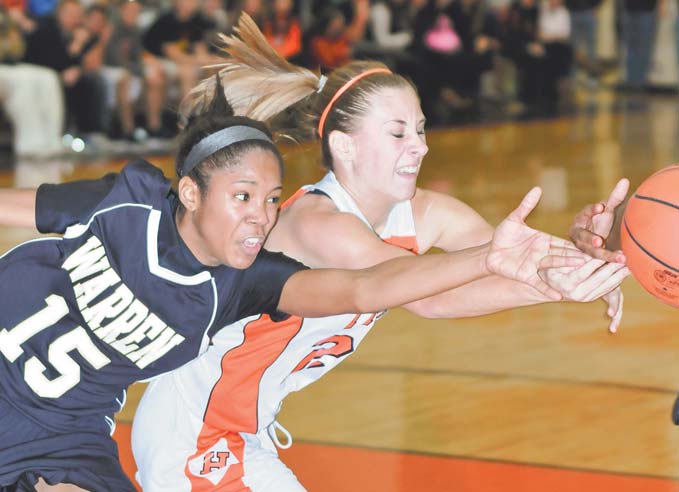 ---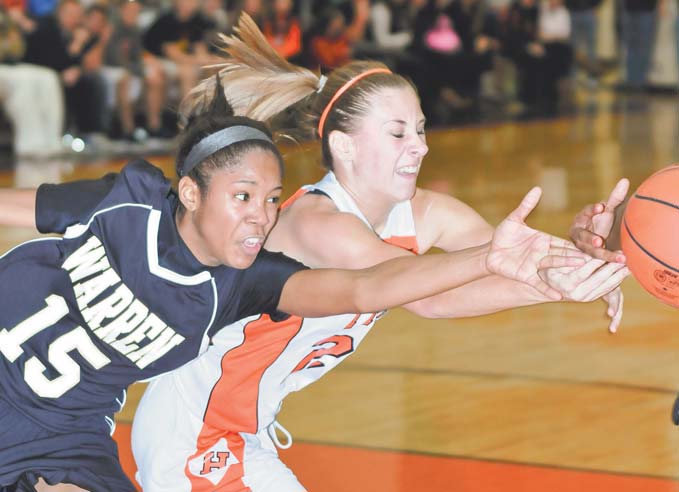 Photo
Howland's Taylor Ginnis battles Anita Brown (15) of Warren Harding for a loose ball during Monday's basketball game. The Tigers won 58-47.
By Tom Williams
HOWLAND
Warren Harding's Anita Brown and Howland High's Taylor Williams showed why they are among the Valley's elite basketball players during Monday's showdown of Trumbull County's best teams.
"I love playing against [competitors] like that," said Williams after she led the Tigers (3-0) to a 58-47 victory by scoring 16 points, pulling down 10 rebounds and blocking two shots.
Of the Harding senior, Williams said, "Her execution — not just the move but how well she finishes — is just extremely impressive."
Brown scored a game-high 24 points and made eight rebounds.
"Brown can just elevate," Howland coach John Diehl said. "Any time you can shoot over Taylor and it goes in, that's a heckuva athlete."
Diehl decided to keep the 6-foot-3 Williams underneath the basket, the strategy being "let her beat somebody and then Taylor is in the key to stop her."
Late in the third quarter, Brown made two free throws to slice Howland's lead to 33-30. The Tigers responded by closing the quarter with a 7-0 run then nursed a double-digit lead for most of the final quarter.
"We knew it was going to be tough," said Brown of playing the defending All-American Conference Red Tier champions who boast two four-year starters (Williams and Erika Nites).
"This is always a big game for us," Brown said. "We tried to give it everything we've got, but fell a little short."
Brown described Williams as "very talented. She finishes well with both hands — we know we've got to bring our A game when we play her."
Not happy with the result, Harding coach P.J. Notar was pleased to see a large turnout.
"That's what you want — people come out to see the two best players in [Trumbull County]," Notar said. "Brown put on a show."
Jumping out to a 9-2 lead, Diehl thought the game was going to turn into a rout.
"We started out really great and I'm thinking this could be over really quick," Diehl said. "Then we had five straight possessions where we either threw the ball away or missed an easy shot."
Brown scored nine points in the second quarter. A late basket by the Raiders' Alexis Simpson and free throws by Brown and Briana McCurdy kept the game in reach at halftime, 29-22.
"At halftime, I knew we were in a battle because McCurdy and Brown are just — wow — they're athletes," Diehl said. "McCurdy might be the fastest guard we [face] all year long."
Nites led the Tigers with 17 points. Olivia Nicholas contributed 10 points.
After landing on her arm early in the game, Williams' first basket came in the opening seconds of the second quarter. She added four others for 10 points at halftime.
"Harding is my favorite game every year just because of the hometown rivalry," Williams said. "They are always an athletic and skillful team, they bring a battle every year."
McCurdy and Tyra Reed scored seven points each for the Raiders (0-2).
"You want that kind of game," Notar said.
"That's why you mark it down on your calendar every year."