Brooks fulfilling promise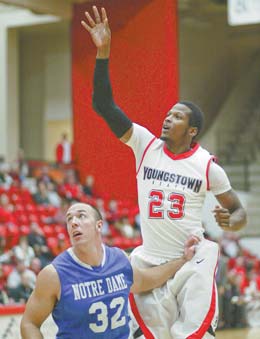 Photo
After playing two of the best games of his career last week, YSU senior forward DuShawn Brooks was named the Horizon League men's basketball player of the week.
By Joe Scalzo
YOUNGSTOWN
On Nov. 18, after a one-point overtime win over UC-Riverside, YSU senior DuShawn Brooks stood outside the locker room answering questions about his stout defense at the end of the game — and his 1 of 15 shooting performance.
"I'm a senior now and it's to the point where I'm not worried about the shots falling," he said. "I've just got to stay focused and do the things I can do."
Three games later, he had his offensive breakthrough.
Brooks erupted for a career-best 24 points in a win against Detroit on Thursday and followed it up with 17 points in a one-point loss to Wright State on Saturday.
For his efforts, Brooks was named the Horizon League player of the week, becoming the first Penguin to receive the honor since DeAndre Mays on Jan. 11, 2010.
"It feels good," Brooks said Monday. "I mean, don't know what else to say. It feels great to be Horizon League player of the week but at the end of the day, I've got to keep doing what I did this weekend."
Brooks, a junior college transfer from Chicago who came off the bench last season, is averaging 10 points and 5.7 rebounds per game this season for the Penguins (5-2), who are off to their best start since 2000. Brooks scored 11 straight points down the stretch against Detroit, turning a five-point deficit into a late lead.
"We expect a lot from him," said YSU coach Jerry Slocum. "I think early in the year he had put some pressure on himself with high expectations. I think we just got him to slow down a little bit and got him in the gym a little bit more and got him to just kind of relax and take the shots that were there instead of taking some forced shots at different times.
"I'm very happy for him. He clearly won us the Detroit game. He was a one-man show those last four-five minutes. He just made every big shot and every big play."
The Penguins led by 17 in the first half against Wright State, only to shoot just 28 percent from the field in the second half and lose on a last-second free throw.
"That was a tough loss," said Brooks. "We've got to focus up on our next opponent, instead of coming out and being sad about losing by one."
After two Horizon League games, YSU will play five straight non-conference contests, beginning with Division III Fredonia State tonight at Beeghly Center.
From there, the Penguins play three straight Mid-American Conference teams on the road — Buffalo, Toledo and Akron — before hosting a Robert Morris team that beat YSU by 30 last year. The conference schedule resumes Dec. 31.
"We're going to see what kind of upperclassmen leadership we have and what kind of focus we have because this is really the gauntlet of our year," said Slocum. "This is as much of a challenge — these next five games and then you sprinkle in finals — as we've had since I've been here."