Assault, chase lead to deadly standoff

Photo
Ohio State Highway Patrol Special Response Team members approach the Girard home where Keith Jornigan was found dead. Early Monday, Jornigan reportedly shot his wife with a crossbow and beat her with a bat at their home in Bristol before leading police on a 20-mile chase to Girard.
Police Standoff: Girard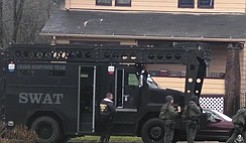 Video
Police authorities said suspect Keith Jornigan's body was found inside a house in the 100 block of Trumbull Avenue.
9:30 a.m. Trumbull County Sheriff's deputy arrives at the Jornigan house, 2776 Bristol Champion Townline Road, to tell Keith Jornigan his mother needed an oxygen tank to be delivered. There is no answer at the door.
10:30 a.m. Wife Danielle Jornigan calls 911 saying Keith Jornigan beat her with a bat and shot her with an arrow.
10:34 a.m. the sheriff's department arrives on scene as Keith Jornigan flees the home. A car chase ensues toward Girard with speeds reaching 100 mph.
11 a.m. Police follow Jornigan to a relative's home at 138 Trumbull Ave. Officials said Jornigan exited his car with a shotgun and entered the home.
1 p.m. Special Response Team of the Ohio State Highway Patrol arrive. There is no contact with Jornigan. Eventually police shoot tear gas into the home.
2:40 p.m. SRT enters the home and finds Jornigan dead in a second floor bedroom. There was one apparent gunshot wound to the chest.
Sources: Trumbull County Sheriff Tom Altiere, Girard Police Chief Jeff Palmer, Ohio State Highway Patrol Capt. James Holt and Lt. Brian Holt
Girard
An apparently troubled marriage that began in 2007 ended Monday afternoon when Keith Jornigan was found dead in a Girard house after attacking his wife earlier in the day.
A search of police records throughout Trumbull County show repeated incidents of reported domestic violence from Keith Jornigan to not only Danielle Jornigan but to his ex-wife as well, whom he divorced in 2005.
But what drove Keith to purportedly shoot Danielle Jornigan with a crossbow, beat her with a bat and then lead police on a high-speed chase still is not clear to Trumbull County officials.
A press conference with Trumbull County Sheriff Thomas Altiere, Girard Police Chief Jeff Palmer and Ohio State Highway Patrolmen Capt. James Holt and Lt. Brian Holt provided a narrative for the day's events:
Trumbull County Sheriff deputies arrived at the Jornigan household at 2776 Bristol Champion Townline Road in Bristol Township about 9:30 a.m. to tell Keith Jornigan his grandmother needed an oxygen tank delivered. But there was no answer. An hour later, Danielle Jornigan called 911 saying her husband had shot her with an arrow and beat her with a bat.
Officials at the press conference said the arrow traveled through her right arm and entered her right side. She was taken to St. Joseph Health Center in Warren and flown later to Cleveland's Metro Health Medical Center. Danielle underwent surgery there and is expected to recover, police said.
Deputies arrived again at the Bristol home just as Keith Jornigan was leaving, narrowly avoiding a collision with him as he fled. Two deputies pursued Keith Jornigan on a chase that at some points reached 100 mph. Police officers from other municipalities joined while Keith Jornigan led them on a 20-mile route to his family's home at 138 Trumbull Ave., where after an almost four-hour standoff with police, Keith Jornigan was found dead with an apparent single gunshot wound to the chest. Deputies said Keith Jornigan had entered the home carrying a shotgun, but they didn't say what type of weapon fired the fatal shot.
Officials said he allowed his five family members living inside the home, including his mother and grandmother, to leave. Police escorted the residents down Trumbull Avenue and also ordered the residents of the adjacent homes to leave. Snipers eventually nested in the second floor of a home directly across the street.
Marge Salinger, 57, a resident of the Girard Parkwood neighborhood where the home is located, said she was driving home when swarms of cops flew past her.
"I was thinking, 'What did I do?'" she said.
Living in a trailer park only a few blocks from the scene, Salinger asked policemen already stationed in front of the home what was going on. It was then that she said she heard two gunshots from inside the house.
"It sounded like a shotgun," she said. "Police said, 'Get out of here.'"
But she stayed close. Many residents of the south side Girard neighborhood gathered close to the house even as police warned them that Keith Jornigan was armed.
Parkwood residents endured the constant drizzle, pulled out phone cameras and filmed as the OSHP Special Response Team arrived with woodland camouflage gear, assault rifles, bullet-proof shields and a military-style truck.
April Mohn, 22, a lifelong resident of Parkwood, lives at 157 Trumbull Ave. She woke up to the events on the opposite side of the street. She said it was the biggest thing that had happened in the neighborhood in at least 10 years.
Capt. James Holt, with the OSHP, said when they arrived on scene at 1 p.m., about two hours after the standoff began, they immediately tried contacting Keith Jornigan inside the home via loud speaker, land line and his cell phone. There was no response.
He said at that time there was some suspicion that Keith Jornigan was already dead, but he followed normal standoff procedure regardless.
"You don't deviate from your protocol just because of that," Holt said at the press conference.
First, SRT fired "kneeknockers," or round balls that are fired from a canister beneath the barrels of their rifles. This knocked out all the windows of the home, a tactic officials hoped would draw out Keith Jornigan.
After another half-hour, Holt ordered tear gas fired into the home. But Keith Jornigan never emerged.
SRT entered the home about 2:40 p.m. and found him dead in a second- story bedroom.