Balanced Penguins rout MAC-member W. Michigan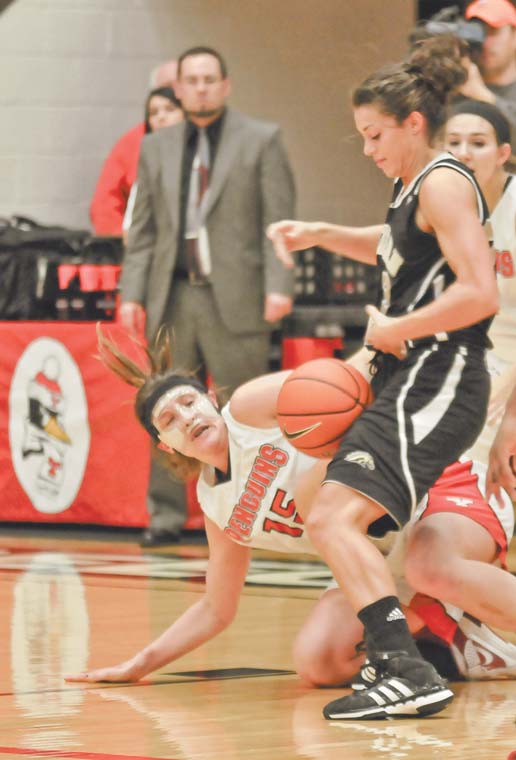 ---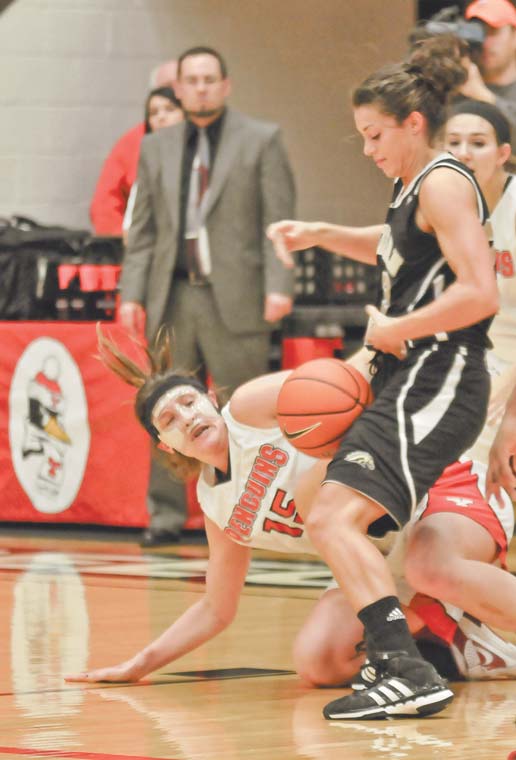 Photo
Youngstown State's Heidi Schlegel (15) dives after a loose ball in front of Western Michigan's Maria Iaquaniello (23) during a basketball game Wednesday at YSU's Beeghly Center. Sclegel, a redshirt freshman, had a team-high 15 points for the Penguins, who routed the Mid-American Conference Broncos, 80-55.
By Joe Scalzo
youngstown
With about a minute left in the most lopsided win for the Youngstown State women's basketball team in five years, the Penguin pep band started to feel a little frisky.
So they broke out in a pretty — OK, pretty loud — a cappella version of "Oh Holy Night."
"Oh holy smokes" would have been more appropriate.
The Penguins put four players in double figures — and two more finished with nine — en route to their most complete victory in years, routing Mid-American Conference member Western Michigan 80-55 on Wednesday at Beeghly Center.
It was YSU's first win by 20 or more since beating Buffalo by 34 in 2006.
"We've played good offensive games [this year] and we've played good defensive games," said YSU coach Bob Boldon. "I think this is the first time we've done both."
Redshirt freshman Heidi Schlegel scored a team-best 15 points, marking the first time this season someone other than junior Brandi Brown led the team in scoring.
In fact, Brown had just two points at halftime, yet the Penguins led 30-22.
"Last year we went as Brandi went for a large portion of the year," said Boldon. "Toward the end I thought we started playing better basketball and we when started playing better basketball, we played more balanced basketball.
"We seem to have done that sooner this year."
Afterward, Schlegel used the word "exciting" five times in her 21/2-minute press conference and "team" eight times.
"We're playing a lot better together," said Schlegel, who said the off-court chemistry and senior leadership has also improved since last year. "We're not playing as individuals anymore. We're focusing on being a team and we're winning as a team."
The Penguins (4-3) held Western Michigan (0-5) to 31 percent shooting from the field and forced 20 turnovers. YSU sealed the win by making 12 of its first 14 shots in the second half — a good sign considering the Penguins blew a 21-point halftime deficit to the Broncos last year.
"Obviously, this year we're playing faster," said Boldon. "We've got better players so we're more apt to do it.
"Last year, if we had played this fast, you guys would have gotten hit with basketballs because we would have thrown it all over the place."
YSU also has better depth, getting 30 points from its bench.
"I've been real happy with our bench all year," said Boldon. "It makes my job a little bit easier when I have some options to go to when kids aren't shooting the ball well or aren't defending."
That depth has also made his practices more competitive, Boldon said.
"I think that's why you're seeing us playing a little harder than last year," he said. "We're getting to the point where if you don't do things right, you're probably not going to play. That's how it should be.
"That's what Division I athletics is all about. You've got to execute and there's got to be some pressure to execute."