Youngstown police arrest 7 fracking protesters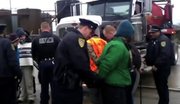 ---
Staff report
YOUNGSTOWN
While thousands learned about the Utica Shale industry inside the Covelli Centre, Youngstown police arrested seven environmental protesters on the city's West Side.
Protesters Arrested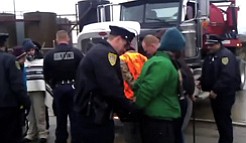 Video
Protestors were arrested outside of the local D&L brine injection well.
Shortly after noon Wednesday, protesters blocked trucks from entering or leaving the D&L Energy Inc. injection well on Ohio Works Drive. Seven of them stood in front of a tractor-trailer truck carrying brine water, a byproduct of fracking, that was trying to leave the site.
Protesters held a banner reading "Stop Toxic Earthquakes."
When police arrived, Police Chief Rod Foley told the seven protesters to move to the grass or be arrested.
Ben Shapiro, 26, of Cleveland, one of the seven arrested, told Foley they would not move, and that he planned to be arrested and would do so peacefully.
Police officers moved in with handcuffs and zip ties, arrested the protesters without force and placed them in the back of a police truck.
Foley said all seven were charged with disorderly conduct and would be arraigned Thursday. They are Anne Lukins, 21, of Washington state; Lindsey Schwartz, 20, of Allentown, Pa.; Benjamin Marks, 19, of California; Sean O'Toole, 61, of Warren; and Jackson Kusiak, 19, and Jeremy Bingham, 20, both of Massachusetts.
Fracking is a process in which water, chemicals and sand are blasted into rocks thousands of feet below the ground to unlock oil and natural gas.
That water is then injected deep below the ground.
There have been seven earthquakes with epicenters near the D&L well this year — the first earthquakes recorded with epicenters in the Valley, prompting protesters to visit the site.
Geologists have said earthquakes can be a result of injection wells.
Meanwhile, about 100 fracking protesters from throughout Ohio told their side of the story in Central Square on Wednesday afternoon.
The protesters say the newer, horizontal fracturing process is untested and called for an immediate moratorium on oil and gas drilling.
Signs held high as the protesters marched through the street displayed a list of anti-fracking sentiments such as: "Ban fracking" and "Not in my back yard, go dig in the sand."
Several Youngstown police officers made sure the protest remained peaceful.
Cheryl Johncox of Richwood said she made the three-hour journey to Youngstown because she felt compelled to protest the taking of rights from homeowners and other residents.
"I want to support communities that are being turned into toxic waste dumps, and the people can't stop it because they have taken away local control ... We want to be protected," she said.
Chelsea Tunnell of Loveland grew up on a natural wildlife reservation in western Ohio and said she doesn't want to risk any environmental damage to the land from fracking.
"You're taking away the sustainability of the land," she said. "As long as I'm alive, I'll be fighting."
CONTRIBUTORS: Staff reporters Karl Henkel, John Goodwin and Robert Guttersohn.