Phantoms players notice a change as wins are piling up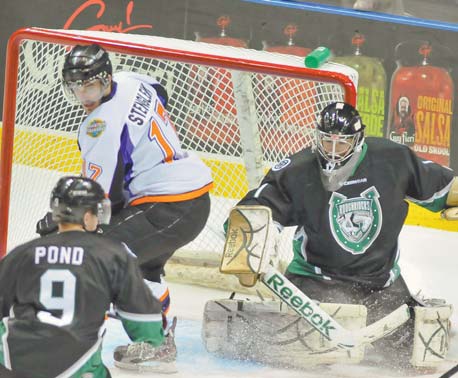 ---
By Tom Williams
YOUNGSTOWN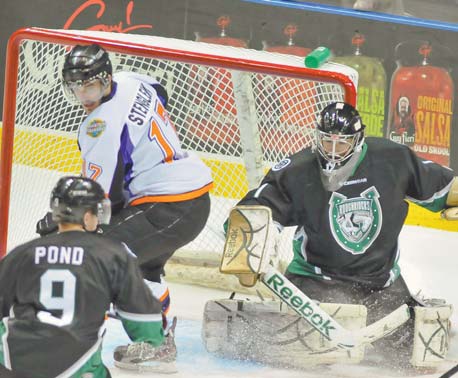 Photo
Forward J.T. Stenglein (17) has scored seven goals in the past six games for the Youngstown Phantoms, who are experiencing a change in energy since the team has been piling on the wins. Stenglein has nine scores for the season, one behind team leader Austin Cangelosi.
Winning frequently has changed the atmosphere swirling above the Covelli Centre ice.
Youngstown Phantoms forward J.T. Stenglein, who has scored seven goals in the past six games, says the veterans on the third-year USHL team have noticed.
"Last year, we would have been happy just to have been competitive in a game like that," said Stenglein after Saturday's 5-4 victory over Sioux City.
Midway through the third period, the Phantoms (12-5-0, 24 points) were struggling after squandering a 3-1 lead.
Stenglein pounced on a Musketeers giveaway and snapped a high shot past startled goaltender Matt Skoff.
The lead grew to 5-3 on Ryan Belonger's empty-net goal in the final minute. That goal proved to be the game winner when the Musketeers' Geoff Ferguson scored with 32 seconds to go.
"What I loved was that it didn't faze our bench for a second," said Phantoms coach Anthony Noreen of the Musketeers' late score. "They guys knew what they had to do, they went right back out there and made sure they didn't get another shot on goal."
Stengelin's two goals on Saturday gives him nine for the season, one behind team leader Austin Cangelosi's 10.
"This is something relatively new," said Stenglein of his hot streak, "especially in this league.
"Definitely when you get one, you get hungry and a little confidence going," Stenglein said. "I'm not going to be able to score every night, so it's good to have other things going for me — try to set other guys up, play physical."
Noreen said his coaching staff is not surprised that Stenglein is finding the back of the net regularly.
"We've said from the beginning that we know he's got the ability to score goals," Noreen said.
Stenglein said the goal for the players is to remain calm even when they are getting leads, sometimes substantial ones.
"Tonight, there was a lot of energy on the bench, whether they had buried one on us or we had scored," Stenglein said. "It's important for us to keep the same energy [level]."
Belonger agreed.
"We stayed calm, even when they tied it up," Belonger said. "We expect to win, not just hoping to win."
Stengelin credited teammate Richard Zehnal, a former Musketeer, for shooting advice.
"Going against a goalie all the time [in practice] like he did the past two years, he kinda knew where it was best to shoot," Stenglein said.
Zehnal scored the Phantoms' third goal while Belonger had two goals to give him eight on the season.
With 10 wins, goaltender Matthew O'Connor is tied for the league lead. He's won five consecutive starts.
Tonight, the Phantoms will try to extend their four-game winning streak when the Sioux Falls Stampede invade the Covelli Centre for a 7:15 p.m. game.
They'll spend the weekend in Michigan for games against the Muskegon Lumberjacks on Friday and Saturday.