Youngstown's Ed O'Neill gets star on Hollywood Walk of Fame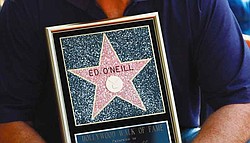 ASSOCIATED PRESS

Photo
Actor Ed O'Neill poses for photographers after receiving a star of the Hollywood Walk of Fame in Los Angeles, Tuesday, Aug. 30, 2011. O'Neill currently stars on the television show "Modern Family". (AP Photo/Matt Sayles)
By GUY D'ASTOLFO
YOUNGSTOWN
It's not every actor who lands a lead role in an iconic television show.
Ed O'Neill has done it twice.
And with those credits, the actor who grew up on Youngstown's North Side got a star on the Hollywood Walk of Fame in a Tuesday ceremony in Los Angeles.
Former boxing champ Ray "Boom Boom" Mancini — another Youngstown native and a friend of O'Neill's — described the scene Tuesday morning on Hollywood Boulevard.
"It's a big deal," he said. "About 300 or 400 people are crowded around, and the street's blocked off." Cast members from the two TV sitcoms for which O'Neill is best known — ABC's "Modern Family" and Fox's "Married With Children" — were in attendance, as were members of the actor's family.
Appropriately, O'Neill's star was placed in front of a DSW Shoe Warehouse on Hollywood Boulevard. The actor's character on "Married With Children" was a shoe salesman named Al Bundy.
O'Neill's television wives — actresses Sofia Vergara from "Modern Family" and Katey Sagal from "Married With Children" — spoke on his behalf at Tuesday's ceremony, as did Steve Levitan, creator and executive director of "Modern Family."
Several other cast mates from both shows also were in attendance, including Christina Applegate from "Married" and Nolan Gould, Rico Rodriguez, Ariel Winter, Jesse Tyler Ferguson and Eric Stonestreet from "Family," according to a news release from Twentieth Century Fox Home Entertainment.
In July, O'Neill received a nomination for an Emmy Award for his work in "Modern Family."
O'Neill's television credits also include lead roles in "John from Cincinnati" and the remake of "Dragnet," as well as appearances in "The West Wing."
The 65-year-old's film appearances include "The Bone Collector," "Little Giants," "Dutch," the "Wayne's World" series and "Redbelt."
O'Neill graduated from Ursuline High School in Youngstown and attended Ohio University and Youngstown State University, where he played football. Signed by the Pittsburgh Steelers before being cut in training camp, he worked as a teacher before becoming an actor.
The Hollywood Walk of Fame, at Hollywood Boulevard and Vine Street, honors show-business greats. The star-shaped plaques embedded in the sidewalk have become a landmark and a top tourism attraction.
Started in 1958, the Walk now has about 2,400 stars for film, music and stage celebrities. Selections are made by a committee of the Hollywood Chamber of Commerce.