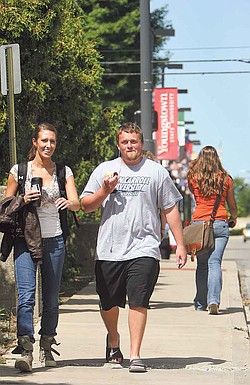 Photo
Kendal Malsch of Canfield, left, an early-childhood specialist major in her sophomore year at Youngstown State University, and Wes Wagner of Poland, a junior majoring in civil engineering, catch up as they walk down University Circle to class Monday, the first day of classes.
Staff report
Youngstown
Enrollment at Youngstown State University is down 2.5 percent this semester.
The university reported that the Monday head-count enrollment, on the first day of fall semester classes, was 14,617 — a decrease of 372 students from the first day of classes last fall semester.
Official enrollment counts will not be available for two weeks.
Jack Fahey, vice president for student affairs, said his office will be working over the next two weeks to increase the numbers.
YSU's enrollment has increased steadily since 2000 and last year reached its highest level in two decades. Fahey said the university was anticipating a slight increase in enrollment this year.
Reasons for the decrease vary, but Fahey indicated that labor issues over the summer that put into question the start of fall semester classes was a factor. He noted that the only other time in the past decade that enrollment dropped – in 2005 – there also was labor unrest on campus.
"We have had great success in growing our enrollment over the past several years," he said. "While we projected that that growth would begin to level off, we hoped that the numbers would be higher."