Parking deck is up and running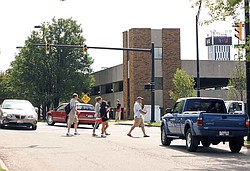 Photo
The Youngstown State University parking deck on Lincoln Avenue, closed for repairs since April, reopened in time for the start of classes Monday.
By Denise Dick
YOUNGSTOWN
While a contract dispute last week put this week's start of classes at Youngstown State University in question, work continued to finish the Lincoln Avenue parking deck.
The deck, known as M2, was up and running Monday, the first day of fall classes.
"We'll be working the next month at night finishing odds and ends," said Danny O'Connell, YSU director of support services.
The deck closed last April for work to begin on the first phase of the $4.5 million total project. The first phase is about $2.1 million.
"It looks like they've put in some new concrete and taken care of the structural problems," said Aaron Mrvelj, a junior biology and psychology major from Struthers, as he walked to his car inside the deck. "I'm really happy they got it done for the first day."
Looking for other parking on campus last spring was a pain, he said.
O'Connell said the ramps inside the deck still have to be sealed and that will take a weekend.
That work will begin on a Friday evening when no weekend events are scheduled on campus and continue through Sunday.
Braces are in place until beam supports may be put in and students who use the deck may encounter small areas blocked off to finish clean up work during the next couple weeks.
Suburban Construction of Cleveland was the project's general contractor.
During the project, the entrance and exit ramps on the deck's east and west sides were repaired, the roof was resealed and the remainder of the structure was sealed to prevent water infiltration. Supports that hold the deck in place also are being replaced.
The roof was waterproofed, as officials have said that's what caused most of the damage to the structure.
The project's second phase, estimated at about $1 million, involves more cosmetic work: new lighting, painting and improvements to stairwells and railings.