Financial deal OK'd for Erie building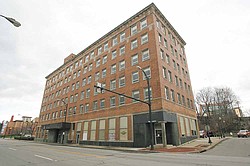 The Vindicator (Youngstown)

Photo
Erie Terminal in downtown Youngstown
Company gets $2M loan, $350K for apartments
YOUNGSTOWN
The city's board of control approved a financial package — including a $2 million low-interest loan and $350,000 for water utility expenses — for the company converting the vacant Erie Terminal building into a 65-bed apartment complex.
The board had a special meeting Monday to approve the agreement with Erie Terminal Place, a Poland company owned by Dominic Marchionda, who also owns U.S. Campus Suites.
"It's a great project that continues the link between downtown and the university," said city Finance Director David Bozanich, a member of the board of control.
The 7,800-square-foot, 88-year-old building is at 112 W. Commerce St., near Youngstown State University's $34.3 million Williamson College of Business Administration, which opened last year.
Erie Terminal Place is spending about $9 million on the project with housing on the upper five floors of the six-story building for YSU graduate students and upperclassmen as well as young professionals, Marchionda said.
The first floor will include Friends Roastery, a caf and coffee-roasting shop, and a couple of other food/beverage businesses, Marchionda said.
"This is a huge investment for downtown," said T. Sharon Woodberry, the city's economic-development director.
The city's financial package includes:
A $2 million, 12-month loan with an interest rate of 0.25 percent.
Under conditions of the city loan, Erie Terminal Place received a $2 million irrevocable letter of credit from First National Bank. If the company defaults on the loan, the city would receive the money borrowed from the bank.
U.S. Campus Suites borrowed $2 million in 2009 from the city for its $8 million, 114-unit Flats at Wick student-housing complex near YSU. The company repaid the loan in 10 months.
$350,000 for water utility expenses.
A waiver of all building, and water and wastewater permit fees, which is about $16,000.
A 12-year, 100-percent real property-tax abatement.
The savings from the abatement won't be known until the project is done and Mahoning County assesses the value of the property, Woodberry said.
The company also will receive $3.22 million in state and federal historic-preservation money after the project is finished. The project has to be done by October 2012 to receive that money.
Despite some delays in starting work at Erie, the project should be done by the second quarter of next year, Marchionda said.
Marchionda's company finalized the purchase of the vacant commercial building for $740,000 on Thursday, buying it from USA Parking Systems. USA Parking purchased Erie for $375,000 from the city in June 2007.