Polish Heritage Day celebration preserves culture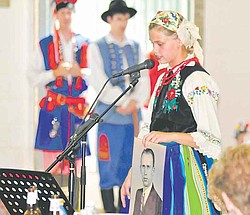 Photo
Lexxi Halushka of Austintown tells an audience at the Polish festival about her great-grandfather. Sunday's festival also featured two polka bands, polka demonstrations, folk-art vendors and Polish language and genealogy classes.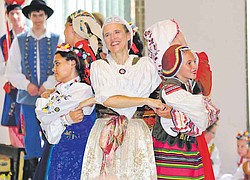 Photo
Cathy Pilat Katvenich, center, Chantel Bahm, left, and D'ella Heschmeyer, right, of the Krakowiaki Polish Folk Circle dance Sunday afternoon during the annual Polish Heritage Day festival at St. Anne's Church in Austintown.
AUSTINTOWN
There was something for everyone interested in Polish food, music and culture at Sunday's fourth annual Polish Heritage Day celebration.
The all-day event at St. Anne's Church began with a Roman Catholic Mass and offered a full schedule of indoor and outdoor activities, and the weather cooperated well with the outdoor festivities.
Attended each year by an average of about 1,200 people, Polish Heritage Day is the largest of this year's Youngstown-area Polish festivals. The event, which originated in St. Casimir Church's basement, has been at St. Anne's for the past three years.
The festival's goal is "to raise awareness for people of all things Polish," said Aundrea Cika Heschmeyer of Liberty. Heschmeyer is director of Polish Youngstown, the umbrella organization for Youngstown-area Polish cultural events, which sponsored the festival.
"We've got a wonderful melting pot of beautiful traditions, types of food, types of music, and that's how you preserve our cultural heritage," Judge Mary DeGenaro said of the Mahoning Valley's cultural festivals, which she frequently attends.
"Three of my four grandparents were Polish. My fourth grandparent was Irish," said Judge DeGenaro of the 7th District Court of Appeals, who was making her first visit to the Polish festival at St, Anne's Church. The judge, who resides in Poland, Ohio, attended the event with her parents, Dan and Morn Bienko of Canfield.
The festival's cultural garden featured Polish language, genealogy and travel classes, a living history tent and a concertina and accordion class.
The Krakowiaki Polish Folk Circle took festival-goers on a Heritage Tour of Poland, showcasing the songs, dances and history of the native homes of the dancers' relatives.
"We feel it's our job to be cultural evangelists and re-educate" the public about Polish culture, Heschmeyer said.
The event also featured two polka bands, polka demonstrations, folk-art vendors, a bakery and deli, a pirogi-eating contest, children's activities and accordion and button-box jam sessions.
One of the vendors was Virginia Luty of Medina, who has attended the festival here every year. Almost all of the merchandise she was selling was imported from Poland, she said. Among those imports were colorful hand-made dolls, intricately hand-carved wooden plates and jewelry boxes, and hand-decorated eggs featuring religious themes.
Festivalgoers did not have to leave hungry, as a 2-pound Polish platter sold at the festival featured stuffed cabbage, potato pancakes, noodles and pirogi.
Larry Walk, and his wife, Diana, of Austintown, broadcast their weekly Happy Polkaland radio program live from the festival on WSOM-AM 600.
Strolling through the festival in full regalia was Mike Ostrowski, a Detroit area resident and re-enactor clad as a Hussar, a 16th Century Polish cavalry soldier.
"We have a number of young people within our Polish community that are fascinated with this period of our strong Polish history," Heschmeyer said.
"It is our hope that Mike's participation this year will help us to not only attract re-enactors for a battle on-site next year, but also to perhaps instigate the beginning of our own regiment here in the Mahoning Valley," she added.