Indians' top pick debuts in Scrappers' win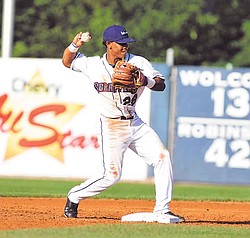 Photo
Short stop #28 Francisco Lindor throws the ball to first base for the out.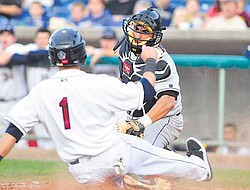 Photo
Base runner #1 Tony Wolters of Mahoning Valley slides into home plate before Jamestown catcher #12 Eddie Rodriguez.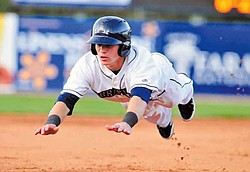 Photo
Base runner #1 Tony Wolters dives into third base, he would be safe.
By Greg Gulas
NILES
The Indians' No. 1 draft pick, Francisco Lindor, got his professional career off to a good start on Sunday.
His new team is hoping for an even better finish.
Lindor singled in the first inning of his first professional game and John Barr and Jake Lowery each had two hits and two RBIs to help the Mahoning Valley Scrappers defeat the Jamestown Jammers 9-2 at Eastwood Field.
"This was a big win tonight and even bigger because we won the final two games to win the series," said Scrappers manager David Wallace. "We came ready to play and didn't let the two runs they scored in the opening inning hurt us.
"Offensively, we put up runs and it's just so big to then put up zeros defensively after we score."
Mahoning Valley (37-31) is 41/2 games behind Auburn in the Pinckney Division standings and two behind Brooklyn for the wild card with seven games left.
Due to Hurricane Irene, the game was one of just two New York-Penn League contests played on Sunday.
Lindor, a 17-year-old shortstop, was the eighth overall pick in June's draft and has been with the Scrappers since Aug. 17, participating in team drills. He played five innings on Sunday, legging out an infield single in the first when he chopped a ball in front of the plate; catcher Eddie Rodriguez was unable to make a throw to first.
"I felt great out there, but more importantly we got the win," said Lindor, who agreed to terms just before the signing deadline. "It's been a trying two months, but God-willing, everything will work out.
"The decision to sign was all about my family. My mother and father helped me to make this decision and we all understand that God has a plan for me."
Added Wallace, "It was great to finally see Francisco in the lineup. He's been with us since Aug. 17 and always has a smile on his face. It was so was good to finally see his professional career get underway."
After falling behind 2-0 in the top of the first, the Scrappers scored three runs in the first, two in the fourth and two each in the seventh and eighth.
Jerrud Sabourin scored two runs and Jake Lowery added two RBIs in the win. The Scrappers will play their next four games against Williamsport (two away, two home), which is a game back in the wild card standings.
"We cannot worry about anyone else right now," Barr said. "We just have to worry about taking care of our business and tonight's win helped us pick up a game in the wild card race.
"You go into every series hoping to win every game, but wanting to win each and every series. This win will give us momentum now as we head to Williamsport."