Conn reigns as king of Valley golf after winning the top division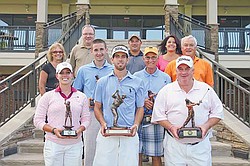 The Vindicator ( Youngstown)

Photo
Winners in the Greatest Golfer of the Valley Tournament are, front from left, Katie Rogner, Anthony Conn and Mike Watson, and second row, from left, Bill Stanton, Ed Antonelli and Tom Walker. In the back row, from left, are Bonnie Mollica; John Gulas, president of Farmers National Bank; Pete Mollica Jr.; and Mary (Mollica) Beidelschies. The Mollica family attended in memory of Pete Mollica, longtime Vindicator sports writer, for whom the Open Division of the tournament was renamed this year.
Greatest Golfer Day Three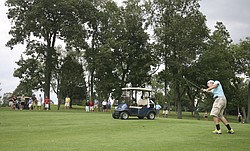 Gallery
By Tom Williams
POLAND
The 2011 edition of the Greatest Golfer of the Valley tournament required an extra hole to determine a champion.
Sunday at The Lake Club, Youngstown State's Anthony Conn defeated former YSU golfer Josh Zarlenga in a one-hole playoff to win the Pete Mollica Open Division of the two-year-old Mahoning Valley tournament.
The event's top division has been named in honor of longtime Vindicator sportswriter Pete Mollica, who died of cancer in July.
Helping present Conn his trophy were Pete's widow, Bonnie, and his children Mary Biedelschies and Pete Jr.
"He would have loved this, but he would have been so humbled and honored," Mrs. Mollica said. "That finish — wow! That's why he liked covering this."
Conn began the day a stroke back of leaders Zarlenga, Gregg Cook and Scott Porter. Cook led by three strokes midway through the final round before Zarlenga surged.
On the 18th hole, Zarlenga came within inches of acing the Par 3 hole for the win. His birdie putt tied him with Conn, one stroke ahead of Cook.
"No doubt, he's happy up there watching this," Biedelschies said. "This was his life.
"His love was his family, but his passion was golf. He loved playing the game, watching the game, writing about the game."
One-hundred-ninety-two golfers participated in the three-day event.
Other winners were: Katie Rogner, women; Michael Watson, men's division 2, Bill Stanton, men's division 3; Phillip Roudebush, men's division 4; Tom Walker, seniors; and Ed Antonelli, super seniors.
---
Greatest Golfer || News and Notes
Go Penguins: Youngstown State University golfer Anthony Conn wasn't the only Penguin to win on Sunday. Katie Rogner, a four-year golfer for YSU, won the women's division by shooting a 74 for a 218. She finished 18 strokes ahead of Joan Ash, the 2010 women's winner. Today, Rogner begins her final semester for her industrial engineering degree. She's happy that YSU faculty will be in the classrooms after a strike was called off on Thursday. "I was ecstatic," said Rogner of how she felt when the strike threat ended. "I don't want to have to go any longer [than necessary]."
Pipino remembered: Flags at The Lake Club were lowered to half-staff in honor of Donald Pipino, the former owner of the Fonderlac Country Club. Pipino, 83, died on Friday. Years ago, Pipino sold the course to club members. The course was renamed The Lake Club when Pipino's son-in-law Ed Muransky purchased it.
Super repeat: Ed Antonelli, who repeated as super seniors winner, said the Lake Club is a "very, very tricky golf course to play when you have no knowledge of it. But this golf course is beautiful." Antonelli trailed Ralph Roberts by five strokes before a surge. Roberts said he began pressing when his lead started evaporating.
Special shot: Scott Porter of Canfield finished with a 224, two strokes behind Conn and Josh Zarlenga. But he needed a special shot to finish fourth with his older brother, Mike, and Dick Marlowe. On his final hole, Scott Porter's tee shot missed the green and hit a hazard. With the gallery watching, he chipped the ball into the hole. "I was just struggling all day long and to chip that in and get that reaction from everybody was nice." Porter knew he had a lot of eyes on him as he swung. "But I thought they were more there for the guys who were leading. It was just nice to end the day on a good note." Porter's shot came just after Josh Zarlenga came close to aceing the Par 3 No. 9 hole. His one-foot putt for birdie forced the playoff. "It was close," Zarlenga said. "It was a great birdie to tie — there's nothing like that."
Windy conditions: Greg Cook, who finished in third, said Sunday's wind made a difference. "It was a lot tougher [but] I don't think it mattered to me so much because I was punching out so much. But it was tougher."