4,000 walk, run, raise $180K for Valley breast-care center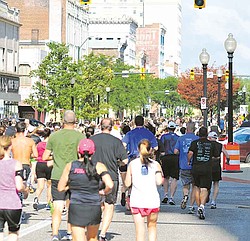 Photo
Thousands of Panerathon runners dash down West Federal Street in Youngstown. The fundraiser drew 4,000 participants Sunday.
Panerathon results:
TWO-MILE OPEN MEN: Andy Morgan, age 22, Peninsula, Ohio, 10:08.7.
TWO-MILE OPEN WOMEN: Alanna Shamrock, 16, Cortland, 13:01.7.
10K OPEN MEN: Ryan Kienzle, 24, Canton, 30:47.4.
10K OPEN WOMEN: Becki Michael, 28, Akron, 36:09.5.
MASTERS MEN:Carl Gordulie, 40, Boardman, 35:16.7.
MASTERS WOMEN: Tina Seech, 50, Upper St. Clair, Pa., 42:28.0.
GRAND MASTERS MEN: Chris Rupe, 50, Cortland, 37:03.8.
GRAND MASTERS WOMEN: Michelle Rupe, 52, Cortland, 43:12.2.
SENIOR MASTERS MEN: George Sagan, 61, Wexford, Pa., 43:15.0.
SENIOR MASTERS WOMEN: Kathleen Korosi, 65, Painesville, Ohio, 58:04.9.
Source: Event organizers
By Sean Barron
YOUNGSTOWN
Many 20-year-olds spend a lot of time working, attending college and figuring out what direction they want their lives to take.
When Breanna Rohrman was that age, however, those common occurrences seemed trivial when viewed next to what was on her plate: a cancer diagnosis.
"When she was diagnosed, it was a lot to take in at first," said her mother, Lisa Rohrman. "We're all doing well [now] and had a lot of people praying for us."
In June 2009, the family received the difficult news, but eight rounds of chemotherapy and several surgeries later, Breanna has returned to Youngstown State University as an engineering major after a one-year interruption. .
Breanna, her sister, Samantha, father, Bob, and several relatives made up one of the teams that took part in Sunday's second annual Panerathon 10-kilometer or 2-mile run and walk that began and ended at the Covelli Centre.
More than 4,000 registered participants walked or ran individually or as part of a team to raise money for the Joanie Abdu Comprehensive Breast Care Center, which is to open in early November at St. Elizabeth Health Center in Youngstown. Sunday's event benefited the Humility of Mary Health Partners Development Foundation in support of the center.
Sunday's event raised $180,000.
Also part of Breanna's team was her aunt Carol Richards of Boardman, a breast-cancer survivor who's been cancer-free nearly two years.
It's imperative those who receive a diagnosis maintain a positive attitude and strong faith, follow their doctor's orders and live one day at a time, advised Richards, who's planning a nine-day trip next month to see family in Tennessee and South Carolina.
Stephanie Camardese and her boyfriend, Kevin Dougherty, took part in the 10K run and made up "Christina's Garden," a team named after Camardese's late sister, Christina Camardese Savage.
"She took a Wonder Woman approach to life; she could overcome every challenge," Camardese said of her sister, who died in 2007 from brain cancer. "She was adamant she was going to beat it, and she was go, go, go all the way."
Camardese Savage fought cancer about 10 years and, despite five surgeries and many difficulties, always kept a positive outlook and spirit, recalled Stephanie Camardese, an Austintown Middle School eighth-grade special-education teacher.
Dougherty, who works for Huntington National Bank, said he never met Camardese Savage, but wanted to participate in the run to show his support.
St. E's underwent an $8 million renovation to make room for the 15,000-square-foot facility, which will be the Mahoning Valley's first comprehensive breast-care center, noted James P. Schultis, president of the HMHP Development Foundation.
The center is an ambition realized for Dr. Rashid Abdu, whose wife, Joanie, died June 3, 1994, from breast cancer.
Rather than succumbing to grief, however, Abdu resolved to build a center in his wife's name that would be available to all who need it — regardless of income.
"I promised her I'd do everything I could to establish a comprehensive breast-care center in her memory," he said. "Everyone will get [treated the same] as millionaires."
The center will take a holistic approach to healing the person, and will follow 27 standards of care set forth by the National Accreditation Program for Breast Centers, a nongovernmental, nonprofit organization established to identify centers in the country that provide quality care, Abdu continued.
The local facility is to have a full-time surgeon and state-of-the art equipment, and will provide women with privacy, dignity and a sense of peacefulness, Abdu explained.
Women also will be given breast-health navigators, which are personal health guides and advocates who will coordinate care, arrange appointments and work to remove barriers to care and healing, he noted.
In addition, transportation and other resources will be available to women, he said, adding that they will no longer have to travel to Cleveland or Pittsburgh to receive such services.
"I want to thank the beautiful and generous community for helping to make it a reality," Abdu added.