Red Lion lives up to the hype, defeats Ursuline 54-18
Ursuline vs. Red Lion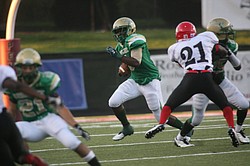 Gallery
Team

| Record | Div. | Conf. |
| --- | --- | --- |
| 2/8 | Div. IV | Independents |
By Doug Chapin
Youngstown
The product was every bit as good as advertised.
The football team from Red Lion Christian Academy in Bear, Del., an all-star team made up of players from across the country, was not fazed by the three straight Ohio state titles won by the Ursuline Irish.
The Lions didn't even blink when Ursuline scored on an 80-yard halfback pass on the first play Friday night at Stambaugh Stadium.
No, the visitors from Delaware showed off their superior talent, including freshman quarterback David Sills who already has committed to Southern Cal, and methodically routed the Irish, 54-18.
"You certainly have to give them credit because they are a tremendously talented football team," Ursuline coach Dan Reardon said about the Lions. "They did a good job as coaches putting their players in position to make plays. That being said, we had our fair share of mistakes and they're a good enough football team, they're going to exploit your mistake."
After Jermaine Williams hooked up with receiver Kevin Cylar for the trick play to start the game, Red Lion drove 60 yards for its own touchdown on a 22-yard pass from Sills to Nieko Creamner.
Sills, who was 15-for-19 with four TD tosses, connected again with Creamer from 18 yards out to make it 14-6. That score was set up by an interception, and then the Irish fumbled on their next possession.
Sills completed a 31-yard pass to Freddie Canteen and Wendell Smallwood, who rushed for 183 yards, scored from the 1. There were still 50 seconds left in the first quarter.
"We had two blocked punts, numerous missed tackles, we turned the ball over a couple times," Reardon said. "I know that if we clean those things up it's a different ballgame. I don't know if it's a win, but I know it's a different ballgame."
Ursuline ran the ball effectively all night, totaling 401 yards on 61 carries. Trevor Smith, who gained 98 yards, scored from 16 yards out at the 6:53 mark of the second quarter to cut the lead to 21-12. Red Lion countered two plays later with a 54-yard scoring bomb from Sills to Canteen, a pass that was tipped by an Ursuline defender but still hauled in by the Lions' receiver.
Blocked punts on two successive possessions set up the Lions with short fields and they took advantage with two quick touchdowns to run the score to 41-12 with 2:46 left in the half.
The Irish ended the first half with a 10-play, 75-yard scoring drive capped off by Jesse Curry's 1-yard touchdown run. He finished with 108 yards. Tramain Thigpen rushed for 82 yards and had 26 yards receiving, and Williams ran for 74 yards in addition to his touchdown pass. Sophomore quarterback Chris Durkin was 8 for 13 for 63 yards and two interceptions.
Red Lion, which had a balanced attack with 243 yards rushing, opened the second half with a 13-play, 63-yard scoring drive which included a successful fake punt.
"Sometimes it's a good thing to be humbled. With the success we've had, sometimes some of the kids take some of those things for granted," Reardon said. "We've talked to our kids about handling adversity and reacting the right way here. If we do that, we'll be fine."